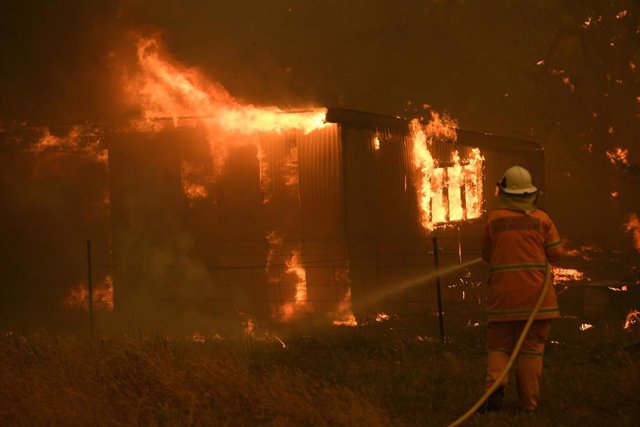 An Australian firefighter fights the fire that is sweeping several areas of the country since October. – Dan Himbrechts / AAP / dpa
The Australian Navy is preparing this Thursday to rescue thousands of people trapped in the small coastal city of Mallacoota, in the south of the country, after fleeing the great fires that are taking place throughout the country in recent months.
According to the authorities, some 4,000 people had been stranded in this small town in the state of Victoria, after escaping this Tuesday from the virulent fires, seeking safety on the beaches of the town.
The Australian Navy prepares to rescue some 4,000 people caught by fires in the south of the country
The general director of Victoria's emergency emergency service, Steve Warrington, has reported that it will take several days until the fires are extinguished and the roads of Mallacoota are again available for driving. "It is not safe to drive," he stressed.
Warrington has explained that the fire has caused several trees to fall on the roads, thus blocking the possible transit of vehicles. In addition, he has lamented that they will have to prioritize who is evacuated in the Navy ship and who will have to remain in the small town.
Mallacoota is a small and popular vacation spot, with about 1,000 fixed residents, which attracts thousands of visitors every summer. All of them were alerted by firefighters to leave the areas affected by the fires as a new wave of extreme heat was expected that threatened to worsen the situation both in the south and southeast of Australia throughout the week.
Coastal communities that have been affected by the virulence of fire are also facing power outages, food and drinking water shortages, as well as fuel, having been isolated.
Fires have ravaged southeastern Australia since October. More than 5.36 million hectares across the country have been razed and more than 1,400 houses destroyed. The official death toll is currently 14 and cities like Canberra, the capital, have become the most polluted in the world by having to cope with the high levels of smoke that fires have caused.