The Army ensures without opposition the north of Colombia affected by the massive presence of self-defense groups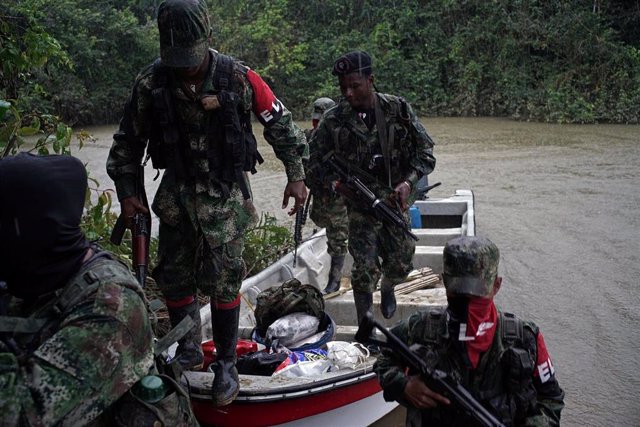 Members of the National Liberation Army (ELN) of Colombia, – REUTERS – Archive
BOGOTÁ, 3 Jan. –
The Army of Colombia has assured this Thursday without opposition the situation of several municipalities of the department of Chocó, in the north of the country, two days after the authorities of the country were alerted that about 300 armed men from the Gulf Clan had arrived to the rural populations of the region in order to control one of the key routes in drug trafficking and other criminal activities.
However, Army sources have explained that upon arrival, "the men had left," as there were no clashes. In that sense, they have assured that everything suggests that the number initially offered by the inhabitants, about 300 paramilitaries, was not so large.
The Inter-Church Justice and Peace Commission denounced on New Year's Eve that paramilitaries of the Gaitanista Self-Defense Forces of Colombia (AGC) had taken control of the Porgue sector, a rural area of ​​Bojayá, intimidating and confining its inhabitants, as well as restricting their communications
The municipality of Bojayá and others of Chocó are at constant risk because they are considered a fundamental step for drug trafficking to Central America and the United States, which causes illegal armed groups to dispute the area.
Mining and illegal logging, as well as the forced recruitment of minors to swell their ranks, are other actions of these armed groups to intensify and dispute the hegemony of this area, which has been heavily undermined to avoid the presence of their settlers
Several local leaders denounced that the current confinement derives from the escalation of violence suffered by the region, to which the Government, criticized, reacted late, despite the fact that the president of Colombia, Iván Duque, requested a few days ago that strengthen the presence of the Armed Forces in the area.
After the FARC left the area on the occasion of the final signing of the peace agreements, it was the National Liberation Army (ELN) and the Gulf Clan, a division of the AGC, who are currently disputing this territory .
Affected communities fear that episodes like the one lived in 2002 will occur again, when in the so-called 'Bojayá massacre', almost a hundred people, who were refugees in a church to protect themselves from clashes between the FARC and the paramilitaries, died after the guerrilla launched a bomb cylinder against the building.