The after-party! Wedding evening reception
Harry drove himself and his new bride to Frogmore House in a silver blue Jaguar E-Type Concept Zero, which was originally manufactured in 1968 but has since been converted to electric power.
Hosted by Prince Charles, who walked Meghan down the aisle, the evening reception will see 250 of the couple's closest friends and family congregate at a 17th-century royal retreat in the grounds of Windsor Castle.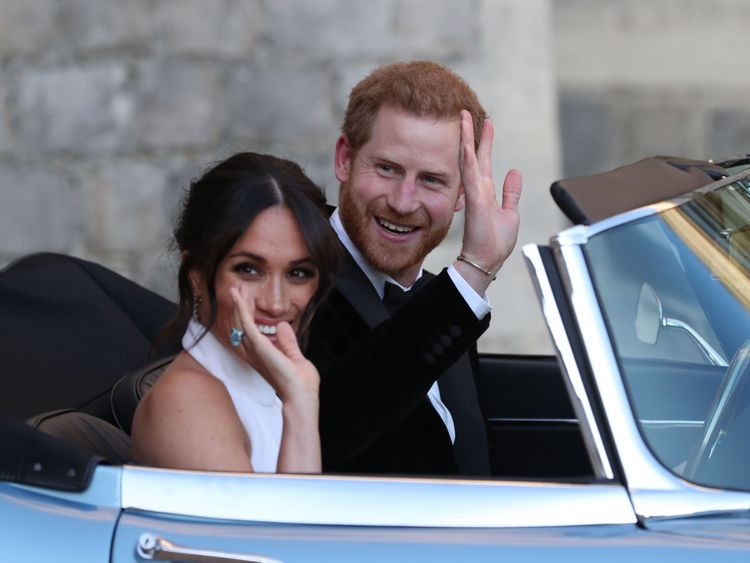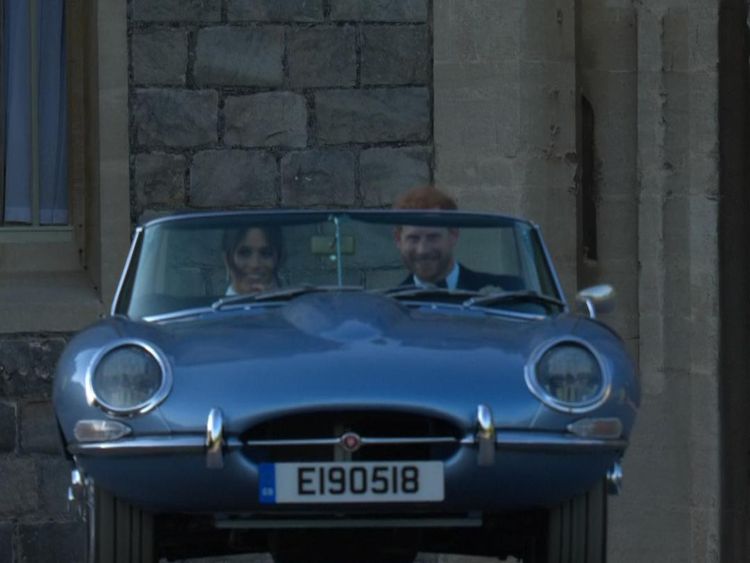 Meghan, who will give a speech at the event, swapped her wedding dress for a Stella McCartney bespoke lily white high-neck gown made of silk crepe.
She also changed into a pair of Aquazzura shoes made in silky satin, with nude mesh and soles painted in baby blue.
The bride's hair has been styled for the evening reception by George Northwood.
The groom changed out of his military uniform and opted for a smart black tuxedo.
The evening events are taking place after an afternoon reception which was hosted by the Queen. All 600 guests attended.
:: Famous faces celebrate Harry and Meghan's big day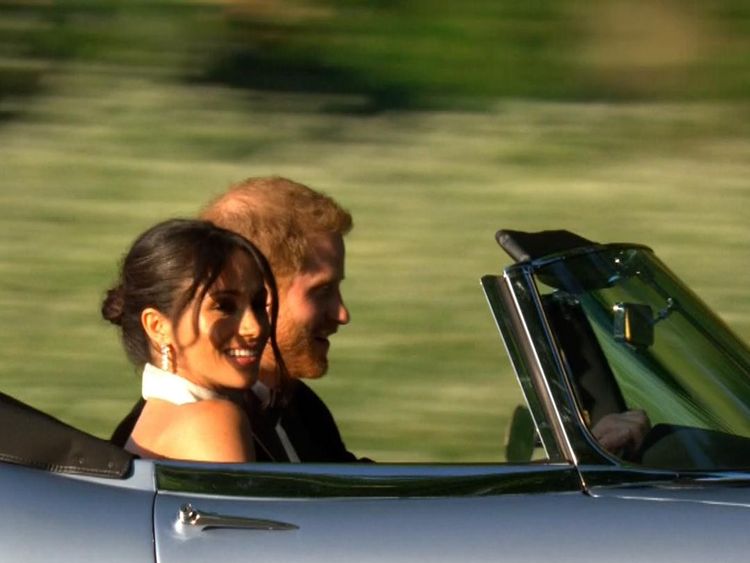 For the evening bash, a massive glass marquee, thought to have cost £300,000, has been erected in the 33-acre private gardens where Prince Harry and Meghan enjoyed picnics when they first started dating.
Frogmore House is named after the numerous chirping frogs that live in the gardens.
A sit-down dinner and dancing is on the cards for Harry and Meghan's guests.
But the big question is which of the couple's numerous celebrity friends will be entertaining the party and getting everybody up on their feet.
:: Everything you need to know about Meghan's dress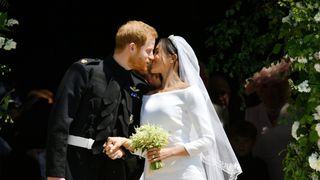 Pop superstar Sir Elton John was a contender for the evening performance, but Kensington Palace announced earlier that he performed at the lunchtime wedding reception at the request of Prince Harry.
"Sir Elton performed for the newly married couple in recognition of the close connection he has with Prince Harry and his family," it said.
Sir Elton holds a special place in Harry's heart as the singer was a close friend of his late mother Diana and re-penned and performed Candle In The Wind for her funeral in 1997.
The Rocket Man singer also attended William and Kate's wedding in 2011 and he has rescheduled two concert dates which were meant to be happening this weekend.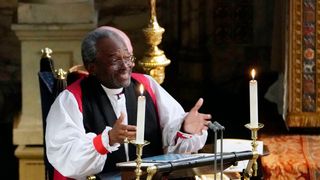 :: Six moments of the Prince Harry and Meghan Markle wedding you didn't hear
Rumours the Spice Girls may also sing are abound – with band member Mel B apparently letting slip that the band would be performing at the royal wedding.
But fellow band mate Mel C then said she was "joking".
Chart toppers Ed Sheeran, Sam Smith and Stormzy have also thrown their hats in the ring, all expressing an interest in playing for the newest royal couple.
As Hereford-born Ellie Goulding, a friend of Harry's, sang at William and Kate's wedding, it is unlikely she will perform at Saturday's reception.
Some veteran acts could also be entertaining the couple and their friends and family.
Bruce Springsteen and Bryan Adams both played at the Invictus Games, which was where Harry and Meghan were seen together in public for the first time.
:: First picture of cake and wedding breakfast menu revealed
It is not known whether there is a noise curfew for Frogmore House, but because it is fairly secluded it is thought the party could go on into the early hours of Sunday.
The Royal Family, including the newlyweds, will stay at Windsor Castle but the guests will leave from one of the estate's many exits – exits that photographers will not be allowed access to.
:: See all of the guests as they arrived at the royal wedding – use our exclusive, interactive Who's Who feature on the Sky News app and website.
:: Watch a special highlights programme in ultra high definition at 9pm on Sky News.