The 39 dead found in a truck in the United Kingdom were all of Chinese nationality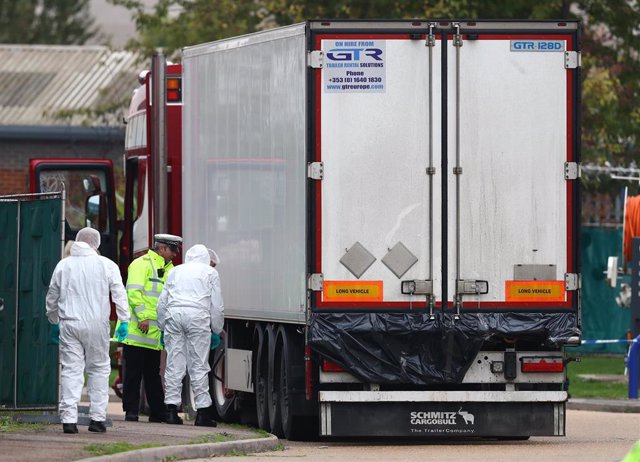 Truck with 39 dead found in Essex – Aaron Chown / PA Wire / dpa
LONDON, Oct. 24 (EUROPE PRESS) –
The 39 dead found on Wednesday inside a refrigerated truck in Essex, in the south of England, were all of Chinese nationality, the ITV News television network reports Thursday.
Police on Thursday registered two addresses in Co Armagh, in Northern Ireland, which would be related to the driver of the truck, who is detained and whom the television network identifies as Mo Robinson, 25. The truck driver is being interrogated by the Essex Police for alleged murder.
Meanwhile, forensics are already working on the identification of the 39 dead, all of them of age except a teenager. The truck and the trailer have already been transferred to a safe place from the industrial park in Grays where the victims were found.
The emergency services responded to a warning in the early hours of Wednesday in the town of Grays and, when opening the truck, found the bodies. Investigators initially noted that the vehicle had entered through Wales, but subsequently determined that the trailer arrived at the English port of Purfleet from Zeebrugge (Belgium), while the truck did so from Northern Ireland.
The Belgian Prosecutor's Office has informed that it has opened an investigation in relation to the case that will focus "on the organizers and all other parties involved in this transport".
"Preliminary results of the investigation show that the container in question arrived at Zeebrugge at 2:49 p.m. on October 22 and left the port that afternoon to arrive at Purfleet on October 23 at 1.00," he said in his statement.
"It is not clear when the victims were placed in the container and if this happened in Belgium," said the Belgian Prosecutor's Office, who has pledged to work in "close collaboration" with the Police and the British judicial authorities.