That's what Ukraine says "Total resistance continues" before the Russian military offensive
Follow live the latest news about the war in Ukraine
The Ukrainian armed forces emphasized this on Friday "Total resistance continues" given Russia's military offensive, which is currently focused on obtaining "total control" from the Donetsk and Lugansk regions in the east of the country.
"Ukrainian guerrillas continue to resist in the temporarily occupied areas. The total resistance of the Ukrainians continues"said the General Staff of the Ukrainian Army in a statement on its Facebook social network account.
Therefore, he stressed that the Russian armed forces continue their efforts to capture all of Donetsk and Lugansk, "Maintaining the land corridor between these areas and the Crimean Peninsula" Y "Block Ukraine's maritime communications with the north-western Black Sea region".
It also stressed in its statement that other main goals are Moscow's "Keep the occupied territories of Kherson and part of Zaporizhia" Y "create favorable conditions for restarting the offensive in the Mikolayiv area".
This was also emphasized by the Ukrainian army "On the territory of Belarus there is an increase in the engineering system and equipment for fortifying defensive positions in areas bordering Ukraine and the European Union".
Referring to the situation in and around Severodonetsk, he denounced artillery attacks on several towns in the region after the authorities ordered Ukrainian forces to withdraw from Severodonetsk in the face of advances by Russian forces.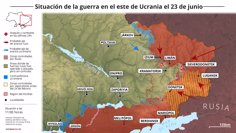 Ukraine confirms that Russian troops have captured two cities around Severodonetsk
"In the direction of Bakhmut, the enemy fired on artillery positions of our troops in Mikolayivka, Berestove and Novugansk. He tries to improve tactical positions and gain control of existing routes"he underlined before pointing it out "As part of their logistics, the occupiers are attempting to clear the waters of the port of Berdyansk".
On the other hand, the number of Russian soldiers killed in combat since the beginning of the war has brought it to more than 34,500, including more than 100 on the last day of hostilities. In that sense, he emphasized that they have died until now "about 34,530" Russian soldiers.
Likewise, it has highlighted that to date, 1,507 main battle tanks, 759 artillery systems, 241 self-propelled and armored multiple rocket launchers, 216 aircraft, 183 helicopters, 99 anti-aircraft systems, 2,553 vehicles and fuel tanks, 14 boats and 622 drones have been deployed, while 137 cruise missiles have been downed.
"The Russian enemy suffered the greatest losses on the last day in the direction of Sloviansk and Bakhmut"he said before adding that "Data is updated". "Meet the inmate. Let's win together. Our strength lies in the truth"it's been dealt with.