Ten civilians die in bombings blamed on the armies of Syria and Russia in the province of Idlib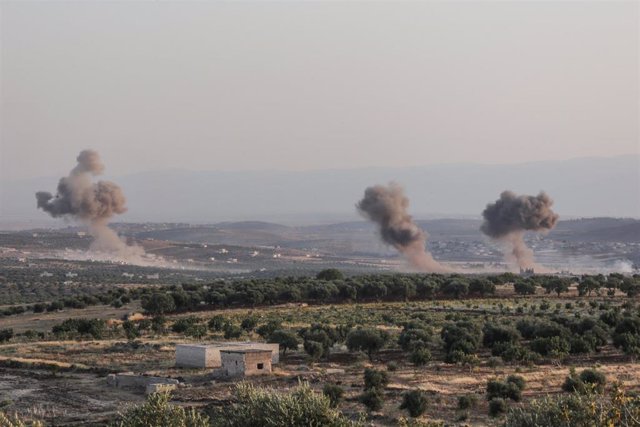 Smoke columns caused by attacks against Idlib province in northwestern Syria – Anas Alkharboutli / dpa – Archive
MADRID, Dec. 19 (EUROPE PRESS) –
At least ten civilians have died Thursday because of a series of bombings blamed on the armies of Syria and Russia against areas of the Idlib province (northwest) controlled by the rebels, according to the Syrian Observatory for Human Rights.
The agency, based in London and informants in the Arab country, has indicated that the attacks have reached the towns of Maarat al Numan, Mardij and Deir Sunbul.
He also stressed that the attacks have resulted in 32 wounded, some of whom are in serious condition, so it is not ruled out that the death toll may increase in the coming hours.
Idlib province is in the hands of several armed groups, the most important of which is the jihadist group Hayat Tahrir al Sham (HTS). The Syrian Government has argued that the offensive is part of its fight against terrorism in the country.
The UN humanitarian adviser for Syria, Najat Rochdi, expressed concern on Thursday about the "escalation of violence" in Idlib and called on all parties to "immediately" cease these tensions to protect both civilians and infrastructure basic.
Rochdi condemned the "intensification" of the fighting and, in particular, the increase in airstrikes and the "alleged use" of 'bomb barrels'. "Dozens of civilians" would have lost their lives as a result of these actions, including many children, according to the United Nations estimate.
"Despite repeated assurances that the opposing parties will only attack legitimate military objectives, attacks on medical and educational facilities persist," he said, in a statement in which he stressed that "counter-terrorism operations cannot invalidate responsibilities to protect the civilians "in the last great rebel stronghold of Syria.
For his part, the director of the Observatory, Rami Abdel Rahman, said in statements to the German news agency DPA that the agency estimates that more than 8,000 people had been displaced on Thursday because of the intensification of the fighting.