Teher á n blames foreign powers for encouraging the "bullying" of protests against the Government of Iran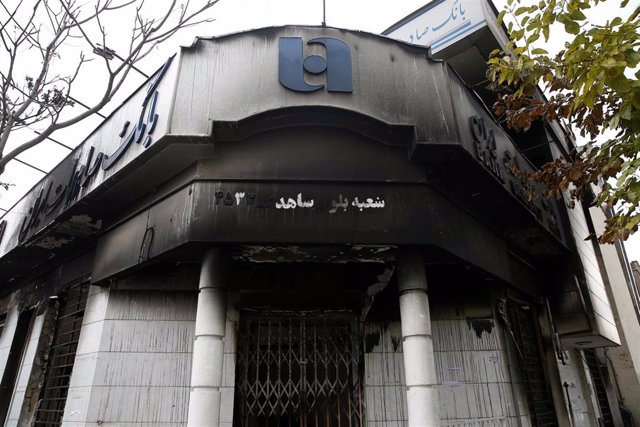 A bank headquarters after being set on fire during protests against the Tehran government that are taking place in different Iranian cities. – VIA REUTERS / WANA NEWS AGENCY
DUBAI, Nov. 25 (Reuters / EP) –
The Government of Tehran has pulled muscle on Monday during a pro-government demonstration in the streets of Tehran and blamed foreign powers, in reference to the United States, Israel, and Saudi Arabia, for encouraging the "bullying" of the opposition during the protests that the Persian country has been living for a few weeks.
"I recommend that the foreign powers observe today's marches and see who the real Iranians are and what they are saying," Foreign Ministry spokesman Abbas Musavi told state media.
"We recognize the right to a peaceful solution, but the situation is different after the riots … and the groups that, directed from abroad, are being armed," Musavi has defended.
Protests arose on November 15 in several Iranian cities after the government announced an increase in gasoline prices by at least 50 percent. Quickly the population went out to demonstrate demanding the resignation of the main politicians of the country.
The revolts against the Executive have intensified in recent days after the burning of at least 100 bank branches and dozens of buildings. The increase in violence in the streets has largely reminded the protests of 2009, when under the so-called 'Green Revolution', dozens of people were killed in the following months.
Musavi has also criticized that some representatives of foreign governments "have fallen so low" when requesting images of the demonstrations, in reference to the US Secretary of State, Mike Pompeo, who last week asked Iranian users of the social network Twitter videos of Iran's police performance during the protest days.
"The United States will publish and condemn the persecution of protesters," Pompeo announced. In response, the Government of Iran decided to restrict Internet access for a week, claiming security problems. However, this Monday, the service has started to work with some normality.
For its part, the Government of France on Wednesday expressed concern about the news that came from Iran reporting several alleged deaths during the protests. According to Amnesty International and other Human Rights associations, at least 115 people have been killed during the riots and 4,000 have been arrested, figures that Tehran has described as mere "speculation."