Teenage terror suspect 'chatted about killing Obama'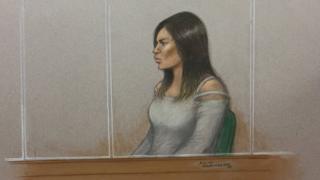 A teenage girl fantasised about killing Barack Obama in online chats with her Islamic State fighter fiance, an Old Bailey jury has been told.
Safaa Boular, 18, sent Naweed Hussain an image of an explosion when he asked how she would kill the then US president, the court heard.
Prosecutors say after he died in Syria before she could join him, she planned an attack at London's British Museum.
Ms Boular of Vauxhall, south London, denies preparing acts of terrorism.
Her lawyer, Joel Bennathan QC, says she was "groomed to be radicalised" by her fiancé, and her family had encouraged and celebrated it.
'Shake my hand'
Prosecutor Duncan Atkinson QC told the jury that Ms Boular chatted online with Hussain over a three-month period.
She had to wanted to marry Hussain, who was in his 30s, and wear suicide belts together, he told the court.
Describing the online conversations between the pair, he said they had exchanged pictures of a Kalashnikov rifle, grenades and a handgun in August 2016.
The jury heard Ms Boular sent Hussain a picture of Mr Obama and asked "So what, is it us Vs…"
He allegedly replied "Yeah" and called Mr Obama a "filthy kalb" [Arabic for dog].
The prosecutor said Hussain asked how she would kill him "if u had da choice", prompting Ms Boular to send the image of an explosion and say "shake my hand with Mr President".
Two days later they declared their love for each other after talking about how they liked British television game shows Deal Or No Deal, The Chase and Family Fortunes, Mr Atkinson added.
The jury heard Ms Boular, who was still 17 when she was arrested, told police she had wanted to go to Syria because everyone dies sometime, and she "might as well die with honour".
Ms Boular said Hussain, a Briton from Coventry, had approached her on Instagram.
She had connected with IS supporters on the photo-sharing website through a woman based in Aleppo, Syria, she had met on Twitter, the court heard.
Her interest had been sparked by the Paris attacks and she was "curious" to find out "why people do the things they do", she said.
'Alice in Wonderland tea party'
The court heard Ms Boular decided to carry out a grenade and gun ambush on people at the British Museum after Hussain was killed.
But when Ms Boular was charged with planning to travel to IS territory, she is alleged to have encouraged her older sister to "carry the torch forward".
The court heard that Rizlaine Boular, 21, of Clerkenwell, central London, has admitted planning a knife attack, while their mother Mina Dich, 43, has admitted assisting her.
In telephone calls to her sister from jail, Safaa Boular is alleged to have talked about an Alice in Wonderland-themed tea party – said by the prosecution to be code for the attack her sister was to carry out.
Based on her reconnaissance and discussion, it appears Rizlaine Boular planned a knife attack in Westminster, the prosecution says.
The court heard Safaa Boular told police Hussain had raised £3,000 to help her and Rizlaine travel to Syria.
The trial was adjourned until Tuesday.