Teenage '21st century highwaymen' guilty of murder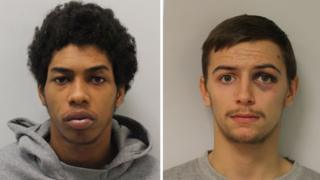 Two teenage criminals who stabbed a charity youth worker to death during a "four-hour spree of violence" have been convicted of murder.
Moped riders Nathan Gilmaney, 19, and Troy Thomas, 18, from Maida Vale, west London, killed Abdul Samad, 28, as they tried to rob as many people as possible on the evening of 16 October.
The pair, described as "21st Century highwaymen" in court, had admitted manslaughter but denied murder.
They are due to be sentenced in June.
'Aggression and blood lust'
Prosecutor Oliver Glasgow QC told the Old Bailey the defendants were "highwaymen of the 21st Century who thought they had the right to threaten and rob whoever they found, who attacked their targets in a brazen and shocking manner… for no reason other than simple aggression and blood lust".
He added: "By the end of their four-hour spree of violence, they had committed nine knife-point robberies, gratuitously stabbed four of their defenceless victims and killed Abdul Samad."
Mr Samad handed over valuables when confronted in St Mary's Terrace, Paddington, but Gilmaney got off his moped and stabbed him in the chest anyway.
He collapsed on the doorstep of his home in front of his parents. Paramedics took him to hospital where he later died.
The court heard the defendants were unmoved by the plight of their victim and prowled the streets for their next target minutes later.
Thomas admitted robbing the victims, but denied responsibility for the violence.
Gilmaney had pleaded guilty to the robberies and violence, and admitted manslaughter, but claimed he did not intend really serious harm.
The jury found Thomas guilty of unlawful wounding and three counts of wounding with intent.
Mr Samad was due to marry his girlfriend Sultana Ahmed.
Ms Ahmed said in a statement her boyfriend was "the change we needed to see in the world" and said he "lived for his job of helping children".
His mother Layla Begum said the death left her whole family "broken".
In a statement provided to the Metropolitan Police, she added: "I often feel like a dead woman walking around my home."