Tanya Burr's 'daunting' move from YouTube to acting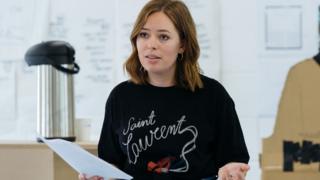 Tanya Burr admits her move from YouTube superstar to London stage debut is "daunting".
She's starring in Confidence at the Southwark Playhouse, where she plays 18-year-old Ella.
"I'd be lying if I said I wasn't nervous but I try to put the nerves at the back of my mind and just say I'm excited," she explains to Newsbeat.
"I didn't know what to expect," she reveals, just after a rehearsal.
The play describes itself as: "Bringing the '90s back" with "mix tapes, Argos catalogues and crop tops" as its main character, Ella, tries to escape her mundane life on the seafront to have a successful life in Los Angeles.
Tanya says she's done amateur stage productions before but "never something where I'd been in a rehearsal room for four weeks".
The 28-year-old has a combined following of 9m on Instagram, Twitter and YouTube – making her one of the UK's most followed internet influencers.
She says it was an "amazing adventure" having a career on the internet but her focus is now acting.
"I don't see it as such a massive big transition," she explains.
"I've been on the internet for 10 years and people are seeing me grow and change as any human being should.
"I haven't kept it a massive secret. I've actually shared my journey with the audience for the last three years at least."
She's following a trend in YouTubers, who are essentially rebranding themselves as they get older, moving away from make-up tutorial vlogs.
In the past couple of years, fashion and beauty vlogger Sprinkle of Glitter rebranded her channel to be her name, Louise Pentland, and talks about her sex life and pregnancy.
Tanya says acting is something she'd wanted to do for years – and in January 2015 enlisted a drama teacher to help her.
When the casting for Confidence was released, the play was accused of "stunt casting" as Tanya didn't have any previous stage experience, which she describes as "frustrating".
"It was just annoying that people thought that I'd been cast because of what I do on the internet," she says.
The play's director, Rob Drummer, says he met Tanya for "a good year" discussing projects and passing scripts to her.
"Tanya had such intelligence when she came to those conversations and had a real instinct for the character which is what I'm looking for," he explains.
"As a theatre company we often work with young actors who might be stepping on stage for the very first time.
"Our core audience are 15-25-year-olds with a real focus on teenagers.
"We're living at a really exciting moment where culture feels like it's diversifying, it's getting younger, youth culture feels vibrant and political to a certain extent."
Lots of YouTuber A-listers, including Tanya's husband Jim Chapman, have posted saying they're coming to see Confidence.
"There are so many people tweeting me telling me they're coming," Tanya says.
"I'm definitely nervous for opening night and for the first preview and I feel like it won't be an accomplishment until I've finished the entire run."
Follow Newsbeat on Instagram, Facebook and Twitter.
Listen to Newsbeat live at 12:45 and 17:45 every weekday on BBC Radio 1 and 1Xtra – if you miss us you can listen back here.