Syrian rebels withdraw from Jan Sheikhun and other locations in northern Hama
Updated 08/20/2019 9:11:54 CET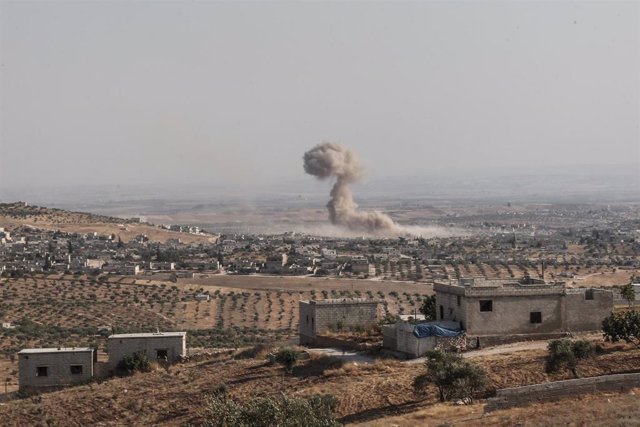 Smoke column after an aerial bombing in the Syrian province of Idlib – Anas Alkharboutli / dpa
Hayat Tahrir al Sham says his men have retreated south of the town and continue to control the surrounding area in Hama
BEIRUT, 20 (Reuters / EP)
Syrian rebels have withdrawn from the town of Jan Sheikhun, in the south of the province of Idlib, and from the last territories under their control in the neighboring province of Hama following the advances of government forces in the area, as reported this Tuesday the Syrian Observatory for Human Rights, although the insurgents speak of withdrawal.
Syrian government forces, supported by Russia, had entered Jan Sheikhun, in southern Idlib, late Monday. The town was in the hands of rebel forces against Bashar al Assad since 2014, while areas under rebel control in Hama province date back to the early days of the conflict.
The advances of the regime's forces around Jan Sheikhun had threatened to surround the rebels in the last territories under their control in northern Hama, including the towns of Latamné and Kafr Zeita. According to local activists, the insurgents have left these locations.
According to the Observatory, the Syrian rebels who had been left behind in that area have concentrated on a Turkish military position in the town of Morek, in the territory abandoned by the rebels.
THE REBELS DENY A WITHDRAWAL
However, in a statement, Hayat Tahrir al Sham, the main rebel group in Idlib, has explained that his men have retreated in the south of Jan Sheikhun and continue to control the nearby zoa in Hama province.
"After a fierce bombardment by the criminal enemy forces … the Mujahideen changed positions last night in the south of the town of Jan Sheikhun, with the southern part still under the control of the Mujahideen," said the group Islamist in a statement broadcast on his Telegram channel.
The Syrian Army announced on August 5 the resumption of the military offensive in Idlib and parts of Hama province, considering that the rebel groups that control this region have not shown signs of interrupting their actions and have perpetrated "several attacks against civilians ". The attack marks the end of the ceasefire agreement negotiated with the mediation of Russia and Turkey in September 2018.
The province of Idlib is in the hands of several armed groups, the most important of which is Hayat Tahrir al Sham, which is part of the former Nusra Front, once a subsidiary of Al Qaeda in Syria. The Syrian regime has argued that the offensive is part of its fight against terrorism in the country.
The last offensive by the Government of Al Assad in the northwest of the country, which began in late April, has forced hundreds of thousands of people to flee to the border with Turkey.
According to the Union of Healthcare and Care Organizations (UOSSM), which supports medical facilities in this part of the country, more than 730 civilians have died at the hands of Syrian or Russian forces since then. For its part, the UN Office for the Coordination of Humanitarian Affairs (OCHA) numbers more than 500 civilians killed in hostilities.