Syrian Kurdish authorities denounce at least 218 civilians killed in Turkey's offensive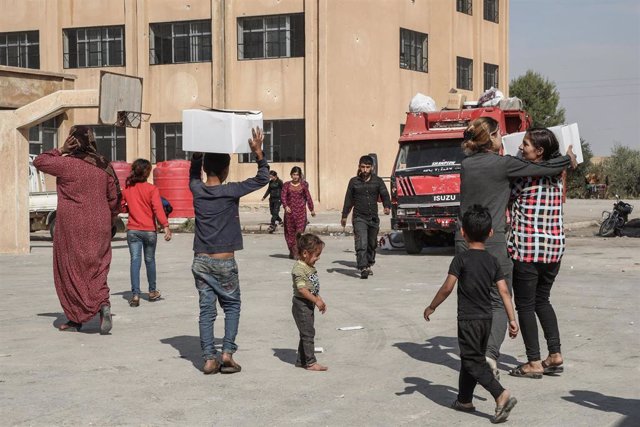 Displaced by Turkey's offensive in northeastern Syria – – / Rojava Information Center / dpa
BEIRUT, Oct. 17 (Reuters / EP) –
At least 218 civilians, including 18 children, have died since Turkey began the operation 'Peace Spring' on October 9 in northeastern Syria, as reported on Thursday by Kurdish authorities in the region.
In addition, another 650 people have been injured, according to a statement from the health authority in the region controlled by Syrian Kurdish forces.
Turkey on October 9 launched an offensive against the Popular Protection Units (YPG), the Syrian Kurdish militias that are the main component of the Syrian Democratic Forces (SDS), in turn a key ally in the fight to defeat the Islamic State in the country.
Faced with this military operation, the SDS have chosen to close an agreement with Damascus that has already led to the deployment of the Syrian Army in some of the emblematic places of the Kurdish militia fight against the Islamic State in recent years such as Kobani and Manbij, and even Raqqa, the ancient capital of the 'caliphate'.
In a statement, the Syrian Foreign Ministry has denounced that "the treacherous Turkish aggression derives from the expansionist ambitions and illusions of the (Recep Tayyip) Erdogan regime, which classifies it among the terrorist groups that provided them with all kinds of support" .
The Government of Bashar al Assad has defended that "the Syrians are more united than ever under their national flag to face the treacherous Turkish aggression and preserve their sovereignty," according to the official SANA agency. In this regard, he has urged the international community to press Turkey to end its aggression.