Syria, the largest refugee crisis in the world
MADRID, Oct. 18 (EUROPE PRESS) –
The civil war in Syria , which began in the form of protests against the Government of Bashar al Assad and triggered a fight with a good number of armed actors, including terrorist groups, has caused what is the biggest refugee crisis of today.
From March 2011 until the end of 2018, according to data from the UN High Commissioner for Refugees (UNHCR), 6.7 million Syrians had sought refuge outside their country, some 400,000 more than a year earlier.
Although Syrians have sought refuge in a total of 127 countries on all continents, 85 percent of them are in the countries of the region. Turkey remains the country with the most Syrians, with some 3.6 million – a figure that also includes children of refugees, as some Syrians have been in Turkish territory for years.
It is followed by Lebanon, with about 950,000, and Jordan, with just over 675,000, while up to 250,000 Syrians have reached Iraq and about 132,000 have made it to Egypt. Outside the region, the country that has given refuge to the largest number of Syrians is Germany, with more than 530,000, while Sweden hosts more than 109,000 and in Spain there are about 13,800 Syrian refugees.
Photo: Reuters
The burden of these millions of Syrians for the countries that host them is important. Thus, Lebanon has 156 refugees per 1,000 inhabitants – the vast majority of Syrians – while Jordan has 72 refugees per 1,000 inhabitants. As for Turkey, despite housing a greater number of refugees, these represent only 45 out of every 1,000 inhabitants.
Only 8 percent of all Syrian refugees live in camps, while the vast majority of them have chosen to live in urban settings. In the case of Lebanon, there are no refugee camps, so Syrians live scattered throughout the country in both rural and city areas and 70 percent live below the poverty line, according to UNHCR.
In the case of Jordan, there are two camps for refugees , those of Zaatari and Azraq, where some 139,000 Syrians have sought refuge, although the remaining 80 percent live by their own means and 93 percent are below the threshold of the poverty, having just arrived with nothing or exhausted their meager resources.
Although the conflict continues, the defeat of the Islamic State in Syria last spring and the reconquest by the Government of Bashar al Assad, with support mainly from Russia, of large areas of the territory that were in the hands of Syrian rebels has returned a relative calm that has encouraged some Syrian refugees to return.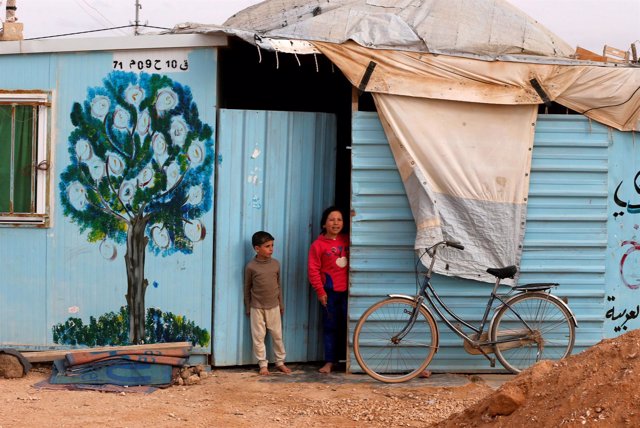 Photo: Reuters
According to UNHCR, 210,900 Syrians returned to their country in 2018, mainly from Turkey, from where 177,300 returned, while returns from other countries in the region did not exceed 20,000. In general, these returns were spontaneous or sponsored by the host countries.
Jordan, for example, has been encouraging the return and chose to reopen its border with the neighboring country in October 2018, which closed following a terrorist attack in June 2016, which has allowed some 153,000 Syrians to return to their country , according to data from the Jordanian Government.
As for Lebanon, the authorities have also expressed their desire for refugees to return to their country and have even been given security support for it. Its president, Michel Aoun, held before the UN General Assembly in September "the right to a dignified, safe and sustainable return" for refugees.
The Turkish president, Recep Tayyip Erdogan, has also been advocating the return of the Syrians to his country and has in fact argued that the ongoing military offensive in northeastern Syria seeks precisely to create a safe area for those who so they want to return.
From UNHCR, they insist that "any return of refugees to Syria must be voluntary, dignified and at a time when returning is safe." In a survey conducted among Syrian refugees in 2018, 76 percent expressed their desire to return one day, compared to 51 percent in 2017, although 85 percent said they had no intention of doing so in the following year and only 4 percent said they intended to return.