Suu Kyi acknowledges the excesses of the Burmese forces but describes the accusation of genocide as "deceptive"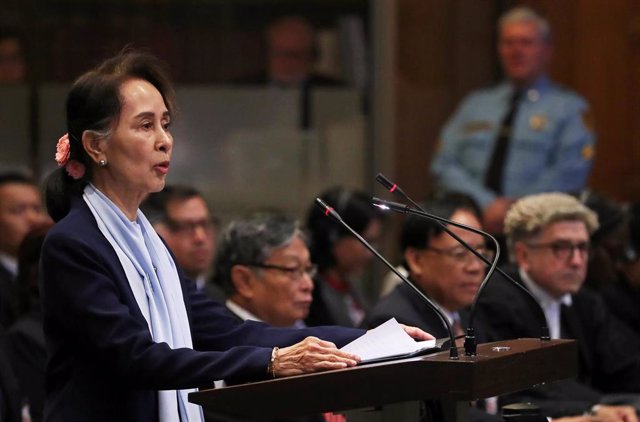 Appearance of Aung San Suu Kyi before the ICJ – REUTERS / YVES HERMAN
Cries of "liar" against Burma's 'de facto' leader in refugee camps
THE HAGUE, Dec. 11 (Reuters / EP) –
The 'de facto' leader of the Government of Burma, Aung San Suu Kyi, has said that Gambia's complaint to the International Court of Justice (ICJ) for the alleged genocide against the Rohingya minority is "incomplete and misleading," although it has recognized abuses of the Armed Forces for which he has promised to debug responsibilities.
The ICJ began a series of hearings on Tuesday to examine in a first phase the complaint filed by Gambia, which accused Burma in November of violating its obligations under the 1948 Genocide Convention, of which the Asian country is a party . On the second day, Suu Kyi has denied this alleged breach of international obligations.
The Nobel Peace Prize has defended for 30 minutes the actions of his Government and the "cleaning operation" undertaken in August 2017 in the state of Rajine, from which more than 700,000 Rohingyas fled in a few weeks.
"The Gambia has presented an incomplete and misleading picture of the situation," he said, emphasizing the existence of an "internal armed conflict" over the activity of militia groups and appealing to a "complex situation" that involves both security and security challenges. of national sovereignty.
"Tragically, this armed conflict has led to the exodus of hundreds of thousands of musulamnes from the three northernmost locations in Rajine," added the Burmese leader.
Suu Kyi has admitted that the Armed Forces could sometimes act disproportionately, but has denied that they can be classified as genocide. In this regard, he stressed that the "genocidal intention" that UN researchers have detected "cannot be just a hypothesis" from which to build an accusation.
"Can there be genocidal intent on the part of a State that actively investigates, prosecutes and punishes soldiers and officers accused of irregularities?" Suu Kyi has raised before the commission of 17 judges that hears these first arguments of the parties.
The Burmese Army announced in 2018 a ten-year prison sentence with forced labor against seven soldiers involved in the Maranza of ten Rohingyas, including children, in September 2017. However, the veto to international organizations prevents us from knowing the specific magnitude of the abuses
This week's procedures will not address the complaint of genocide itself, but the Gambia's request for precautionary measures for Burma to suspend any activity that could make the situation worse. Suu Kyi, on the other hand, has asked the ICJ to "refrain from any action that may aggravate the current armed conflict and peace and security in Rajine."
In refugee camps in Bangladesh, where more than one million Rohingyas are crowded together, Suu Kyi has been labeled a "liar" during his statement, broadcast on a local news channel. "She is a great liar, she should be ashamed," said Abdur Rahim, 52.