Susie Wolff: 'Grid girls' did not offend me but F1 ban is a step in the right direction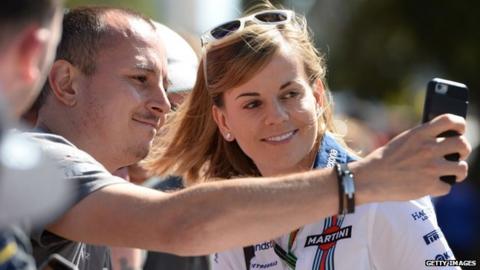 In my position as a female within motorsport for over 25 years, the use of 'grid girls' wasn't something that offended me.
Neither was it something I saw as one of Formula 1's priorities to change to allow the sport to evolve.
The owners of F1 are saying it is not what they want to see as an image representing the sport, and it is not what they want to portray the sport as.
'Grid girls' were a tradition within the sport. At most races they are well dressed and representing top luxury brands. At the Austrian Grand Prix they were in traditional dress (the dirndl) and it was perceived as an honour to be picked as a 'grid girl' for an F1 Grand Prix.
During my time racing in German Touring Cars for Mercedes-Benz, I can recall getting into one conversation with a 'grid girl' while waiting for my parade lap to start. She was a medical student who found it fascinating to be so close to the racing car and on the grid just before the race start.
You can say, on a positive note, that the owners of F1 have made a clear statement with their decision. This is not going to change overnight the lack of female representation in motorsport but could it be a step in the right direction? I believe so.
I set up the Dare To Be Different organisation to try to promote efforts to make a step-change, to drive female talent.
Let's take the successful women in the sport and make role models out of them to inspire others. Let's get school girls around an F1 show car and allow them to dream. Let's increase the talent pool of girls and women entering the sport.
The next generation are now in prominent roles within teams and in the management of F1. From my personal experience they are a lot more open to the fact that women are capable of achieving the same things as men in a competitive and performance-based environment.
I am watching with curiosity and hope. Grid girls are gone, like it or not, but more importantly – what's next on the agenda?