Suffolk MP Daniel Poulter cleared in misconduct probe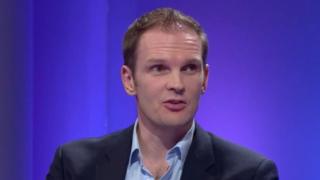 The Suffolk MP Daniel Poulter has been cleared over allegations of inappropriate behaviour towards female colleagues.
Mr Poulter was referred to an internal disciplinary committee following claims made to the Sunday Times in November.
In a statement, the Conservative Party said a panel found there was "insufficient evidence to support the complaint made against him".
Mr Poulter said he was "pleased", but "entirely unsurprised" at the findings.
The MP for Central Suffolk and North Ipswich was placed under investigation after fellow Conservative MP Andrew Bridgen alleged that women had complained about being treated inappropriately by him.
Mr Poulter had been on sick leave but returned to the Commons in January to hear a bill reading.
He said: "I am pleased although entirely unsurprised that, after five months, I have finally been exonerated of any misconduct or inappropriate behaviour.
"I appreciate that the committee left no stone unturned in investigating these unsubstantiated complaints against me."
He revealed legal action was under way against the Sunday newspaper.
'Toll on health'
Mr Poulter added: "The allegations brought against me were false and scurrilous. I have no idea why a fellow Conservative MP should have irresponsibly sought publicity by attaching his name to these claims in a newspaper article.
"The past five months have been incredibly difficult for me and have at times taken a considerable toll on my health.
"Nevertheless, I have continued to represent the people of Central Suffolk and North Ipswich and I fully intend to continue doing so."
A Conservative Party spokesman said: "A thorough and impartial investigation of a complaint took place and a panel chaired by an independent QC found there was insufficient evidence to support the complaint."
The full findings of the panel will be published in the coming days.