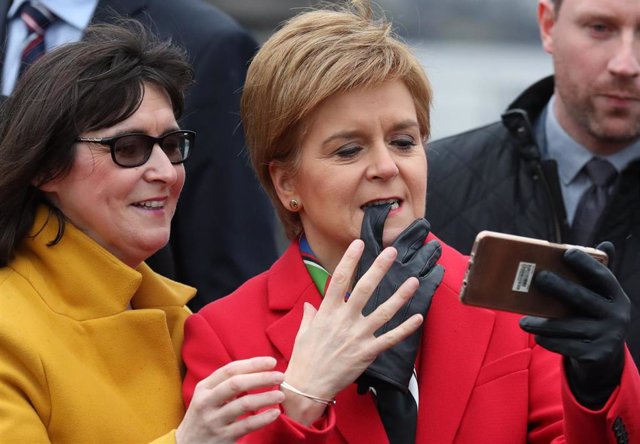 Nicola Sturgeon – Andrew Milligan / PA Wire / dpa
LONDON, Dec. 15 (EUROPE PRESS) –
Scotland's chief minister, nationalist Nicola Sturgeon, warned British Prime Minister Boris Johnson on Saturday that "Scotland cannot be a prisoner" in the United Kingdom after Johnson dismissed a second referendum like the one the National Party is asking for Scottish (SNP).
"Scotland cannot be a prisoner within the Union against its will … It is a foundation of democracy. You cannot hold Scotland in the Union against its will. You cannot lock us in a closet and throw the key with the hope that everything is forgotten, "said Sturgeon, who believes it would be" a perversion and subversion of democracy "to prevent this vote, particularly after the sweeping victory of the SNP in the constituencies of Scotland in the British general elections of the past 12 from December.
In contrast, the Conservative Party of Boris Johnson lost six of its thirteen deputies after focusing its campaign in Scotland in its opposition to a second independence referendum. After the election, Johnson telephoned Sturgeon to tell him that "he is still against a second independence referendum," according to Downing Street sources.
"If you think that saying does not close the matter, you will see that you are completely and absolutely wrong, as I said on the phone on Friday night," Sturgeon explained.
With their refusal, conservatives are "ignoring reality," according to Sturgeon. "Scotland has chosen a very different future than the one that has chosen much of the rest of the United Kingdom," he said Sunday in statements to the BBC.
The declared objective of the SNP is to hold a second referendum in the first half of 2020: "I will fight for the plan for which I was elected … I think it is the most democratic," Sturgeon added.
To this end, he will propose next week "a detailed and democratic proposal for the transfer of powers" so that the Scottish Government can call a legal referendum that, according to the Scottish leader, the British Government will not be able to oppose.
Thus, Sturgeon recalled that in the 1980s and 1990s the Conservative Party assured that "they would never be in a Scottish Parliament", but they did participate when it was launched, in 1999. "They could not hold that position because the will of the people Scotsman is too strong and democracy was finally respected, "he said.
On September 18, 2014, residents in Scotland voted 55 to 45 percent in favor of permanence in the United Kingdom, but since then the Sturgeon SNP has achieved a resounding victory in the London Parliament elections and maintains a stable government and with an absolute majority in Edinburgh.
In the 2014 consultation, the main argument against independence was that Scotland would leave the EU in case of leaving the United Kingdom, a fact that will finally occur after the Brexit approved in a referendum in 2016 despite the victory of the "no" in the Scottish constituencies ".