Sturgeon affirms that the electoral results "reinforce" his request for an independentist referendum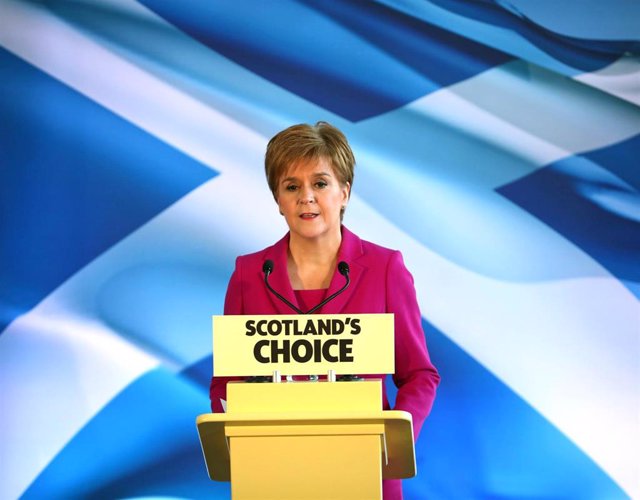 Nicola Sturgeon – Jane Barlow / PA Wire / dpa
LONDON, Dec. 13 (EUROPE PRESS) –
Scottish Chief Minister Nicola Sturgeon has claimed that the results of the legislative elections "reinforce" his claim for a second independence referendum, among other issues because he believes that British Prime Minister Boris Johnson has no "mandate" in Scotland.
The Scottish National Party (SNP) was one of the big winners of the night, after obtaining 48 seats, thirteen more than in the previous legislature, and confirming itself as the great dominator of the Scottish political scene both regionally and nationally.
Sturgeon has appeared this Friday to thank the "overwhelming" support for the SNP, "the message and vision" he has defended during the last election campaign, in which the formation has claimed a reissue of the 2015 consultation in which a majority of Scots ruled in favor of permanence in the United Kingdom.
"Scotland has rejected Boris Johnson and the 'tories' and, once again, has said 'no' to Brexit," said Sturgeon, who thus recalled that Scottish citizenship was in 2017 in favor of the United Kingdom remain part of the EU.
The Scottish leader has considered that the elections have marked a "turning point", from which it is legitimate to ask again to call an independent referendum. Sturgeon had already shown before the election his intention to hold that appointment – to which London opposes – in 2020.
Independence, he stressed, "is not the decision of any prime minister in Westminster and, above all, of any of those who suffered a clear defeat in Scotland." In this regard, he has advocated to provide the Scottish population with the possibility of choosing their "future", inside or outside the United Kingdom.
Sturgeon plans to publish his "detailed" "democratic" argument next week to justify a transfer of powers and move towards that new call, which "must be the responsibility of the Scottish Parliament," reports the BBC.