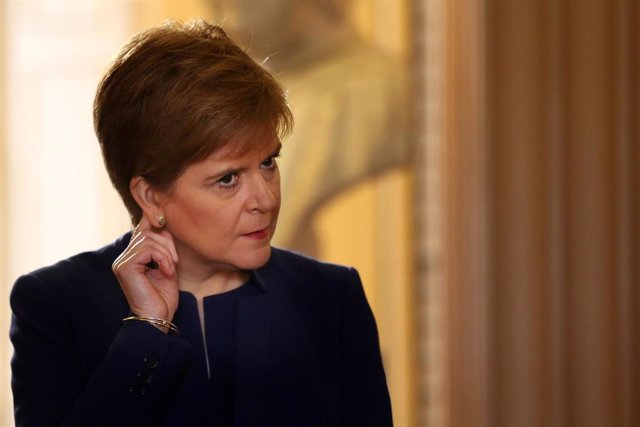 Nicola Sturgeon – David Cheskin / PA Wire / dpa
LONDON, Jan. 31 (EUROPE PRESS) –
The main minister of Scotland, Nicola Sturgeon, has appealed this Friday to the mobilization to lay the foundations for a new independence referendum, although it has made it clear that there will be no "shortcuts" because any future consultation "must be legal and legitimate."
Sturgeon advocates to search without "shortcuts" for a new referendum in Scotland: "It must be legal and legitimate"
Sturgeon does not give up his intention to repeat in 2020 the vote that failed in September 2014, when a majority of citizens said 'no' to the secession of Scotland. After the rejection of the central government to a first request, the leader has rethought the strategy opting for pragmatism.
The polls draw an even scenario in the case of a second referendum and, taking advantage of the possible side effects of Brexit – the Scots rejected by majority the exit of the United Kingdom from the EU -, Sturgeon has announced "the next steps for the future from Scotland".
These next steps go, first, through greater mobilization to ensure that, if there is finally a new consultation, it will not mean a new failure. Thus, he urged the defenders of independence to endorse the messages of the Scottish National Party (SNP), to "convince a majority of the population."
Sturgeon recalled that the Brexit that will be consummated this Friday is a "crucial moment" for both Scotland for the whole of the United Kingdom, insofar as it implies a "real and deep sadness" for part of the citizenry. Against this, he has promised "hope for a better future", in which "the path of the country is determined by the people who live here."
"To achieve independence, a referendum, no matter when it happens, whether this year as I want or after the next election, must be legal and legitimate. It is a fact," Sturgeon said during his speech, in which he has also claimed that this consultation "clearly demonstrates" that there is "majority support," according to the British media.
"This legality must be beyond any doubt. Otherwise, the result, although favorable, would not be recognized by other countries," said Sturgeon, who in recent months has ruled out promoting a possible unilateral consultation similar to that of Catalonia.
The principal minister of Scotland has pointed out that "the best way" is to "reach an agreement with the Government of the United Kingdom on the transfer of powers to the Scottish Parliament, as was done in 2014". British Prime Minister Boris Johnson has already ruled against this permit this month and has not shown signs of giving in.
As practical gestures, Sturgeon has announced his intention to convene a meeting of regional, national and former MEPs to discuss future plans and has confirmed that he will ask the Electoral Commission to begin studying the question of the hypothetical second referendum. The Scottish Government also plans to update the document on its arguments in favor of secession.