Stricken hiker's 'terror' stranded in California desert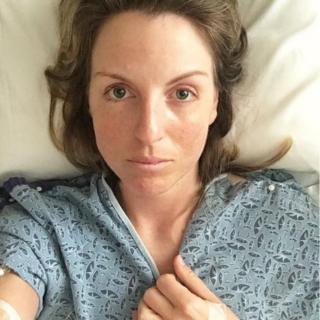 Tourist Claire Nelson never imagined one of those terrifying stranded-in-the-desert ordeals could happen to her. Then she fell from a boulder and shattered her hip, finding herself immobile and alone in a sun-baked wilderness.
When Claire's friends in Southern California asked her to cat sit at their home near Joshua Tree National Park for a few weeks, she was more than happy to accept.
The New Zealander had hiked before in the Joshua Tree park and loved the desert landscape with its "Dr Seuss-like" trees and cacti.
Early one morning, she drove out to the wilderness for a six-hour hike. She stocked up with several litres of water, a hiking stick, and sunscreen.
"I was feeling very much like this is where I want to be right now," Claire told the BBC.
At 08:30, Claire spoke to a guide at the information centre about the route. He described it as a moderate hike on a nice trail.
Claire followed the trail for two miles, and then realised she couldn't locate the three-mile marker. She decided to take a break, resting on one of the giant boulders while figuring out the route.
"It was when I stood up to get down from the rock, I was quite high up, and it was so slippery that I immediately went down," Claire said.
"I knew there was nothing I could do to stop myself. It was like going in slow motion. My head was just going: No, no, no, no."
'Complete and utter terror'
"I landed with a massive crack and my whole body filled with pain. My immediate thought was 'this is bad'."
Claire had landed on her left side, shattering her pelvis. She tried to get up, but found she could not move. She tried to call emergency services, but her phone had no signal.
"This was something I thought wouldn't happen to me – not because I thought I was a pro-hiker – it just seemed like such an extreme scenario that you don't imagine that this happens in real life.
"I hike a lot on my own and I came to think I'm fairly sensible about hiking but I suddenly realised how foolish I'd been.
"I thought, 'I can't believe I'm in a situation where I'm out here alone, people don't know I'm here, I've injured myself and I have no way to contact anybody.'
"That was a moment of complete and utter terror."
Staying alive
"I did panic at first," Claire said. But her thoughts quickly turned practical: she would need to manage her pain, keep away from the sun and conserve water to survive.
"I just knew that the only thing I could control was how long I could stay alive for."
Claire took some aspirin which she had in her pack to help with the pain.
She used a stick and plastic bag to create a curtain from the sun.
When her water ran out the next day, Claire drank her own urine to survive.
Skip Facebook post by Joshua Tree National Park
UPDATE:Injured hiker was found alive this evening by RCSD and JOSAR teams and transported by CHP to Chiriacco Summit to…

Posted by Joshua Tree National Park on Friday, 25 May 2018
End of Facebook post by Joshua Tree National Park
"I was filming little videos from the moment I fell just in case anyone found me, to explain what happened. I haven't watched them yet. I'm unsure whether I want to.
"These little singular thoughts would pop into my head and they drove me forward. I want to see this person again. I want to taste this again. I want to go to this place again.
"And the idea of my loved ones finding me in a desert – I couldn't bear to do that to them."
Claire spent four days and three nights alone and injured in the desert. She told the BBC she split her days into little goals to pass the time.
The first half of the day she screamed for help. The second half she spent avoiding the sun and staving off heat stroke.
She thankfully had no run-ins with rattlesnakes or coyotes.
"I did see some kestrels hovering above me menacingly, sensing death – around and around above me."
The rescue
"Every day as night fell, I was getting more and more despondent that no one had come," Claire said.
"On the fourth day it was particularly hot and I was really struggling to keep my spirits up. I started to give up hope.
"I drifted in and out of sleep thinking, how much longer can I go on?"
In the late afternoon, Claire first heard the helicopter. She thought she was hallucinating.
"Then I hear them call my name, 'Claire we're looking for you.'
"I was on my back in a small sort of circle of boulders and they can't see me. I'm screaming at the top of my lungs and they can't hear me."
She made a makeshift scarecrow from her hiking stick and sun curtain and threw her remaining energy into waving it.
Her efforts paid off, and rescue workers soon came down to her.
"They said they were so used to finding people in a very bad way and there's me, over the moon at being discovered, having a laugh.
"They were gobsmacked."
'When the bill arrives, I don't know what's going to be on it'
An array of blood tests and scans was waiting for Claire at the Desert Regional Medical Center.
She has had multiple X-rays, a CT scan and had reconstructive surgery for her pelvis. She is on painkillers, muscle relaxants and an IV drip.
But the American healthcare system has left her "with a lot of question marks and ifs and buts", she said.
"I do know it's getting expensive because I'm being scanned for every pill I take, every injection I get. I have a barcode and everything's going on a tab somewhere. It's disconcerting.
"The care I've received at this hospital is incredible, but it's a lot of unknowns.
"When that bill arrives, I don't know what's going to be on it."
Her friends set up a fundraising page to help cover the mounting costs.
"I've been absolutely overwhelmed by messages of support," she said.
Claire has begun physiotherapy and says she's "learning to walk again".
She's most looking forward to being independent once more.