Stonewall 100: Being LGBT in the workplace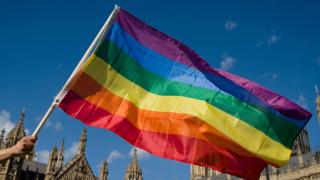 As Stonewall releases its annual index of Britain's top 100 employers for lesbian, gay, bisexual and transgender (LGBT) staff, employees share their stories of being in some of the top-ranked workplaces.
A quarter of the top 20 indexed companies were law firms, including Pinsent Masons which was ranked second.
For Rob Childe, an inclusive workplace means being able to be open and honest about your life, your family and your interests and it was what attracted him to international law firm Pinsent Masons four years ago.
Working for a previous employer – he said – was "like working with your hands behind your back".
He said the cost of having to hide the fact you are LGBT is "really significant".
"It's draining, creates bad energy and all of that is lost productivity," he added.
He said seeing LGBT people who are out and well-regarded in senior positions is "a real enabler".
But he is aware that role models are not enough, which is why he has taken part in discussion sessions with colleagues.
"It's tricky speaking about your personal life but I thought it was important and I was in a good position to do it," the senior associate said.
"It's a journey. You can't be complacent. We are paving the way for the younger generation."
More than 430 organisations competed to make this year's index which included universities, health boards, government departments and financial services.
The Welsh Assembly topped the list, which scores employers on areas of policy and practice and surveys staff about their own experiences.
Sunderland-based Housing Association Gentoo ranked third on the index. One gay woman who works as an IT manager at the group praised the "real feeling of inclusivity".
"I've worked in the private sector in the past and was always very wary of my sexuality and not overly open about it," said the woman who has asked to remain anonymous.
"When I was going through the application with Gentoo I saw Stonewall early on and just seeing that on the website just opened doors immediately," she added. "It's a huge additional benefit for me."
She said there was "no question about who I am" and that her sexuality was neither something she needed to be worried about or hide.
Louise Crosby is a policy adviser for Newcastle City Council which was ranked ninth – the highest performer in the Local Government sector.
"I've worked in other places where they have been negative comments," she said. "And I know a lot of people who don't perform to their best because they are frightened of being judged."
Louise recalled some people avoiding displaying pictures of a same sex partner on their desk.
Now, she said, she can just focus on the job.
"There are senior managers who are very pro active in LGBT equality so you know you have got the support if anything goes wrong."
'My whole self'
This was echoed by Eraldo d'Atri, a senior associate and openly gay man at Clifford Chance law firm (ranked 11 in Stonewall's list).
"People are only able to excel if they are comfortable and can bring their whole self to work," he said.
"The moment I was here, I knew things were right. I'm not sure that would have been the same at other firms."
Mr d'Atri now co-chairs the firm's LGBT network.
The network supports people within the firm as well as offering networking and social opportunities. The events are open to everyone and Mr d'Atri cited the importance of strong "allies" from outside the LGBT community.