Stock markets across Europe rattled by Italy crisis
Italy's main stock index ended the session down 2.65%, after earlier sinking to a 10-month low.
Italy's bond market also suffered a steep sell-off. The yield on 10-year debt hit 3.133% – a level not seen since 2014 – although it recovered slightly to 2.9% towards the end of the trading day.
A rise in bond yields means the Italian government is paying more interest on its debt.
Bank shares were also down, slumping by almost 5% to a 13-month low, bruised by a sell-off in Italian government bonds, a significant part of the banks' portfolios.
Intesa Sanpaolo, BPER Banca, Unicredit and UBI Banca fell sharply, down by 4% to 5.6%, while Poste Italiane also tumbled 4.5%.
Italy's central bank warned the country was only "steps" away from losing investors' confidence.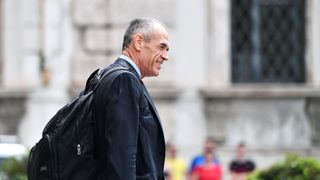 "We must never forget that we are only ever a few short steps away from the very serious risk of losing the irreplaceable asset of trust," Ignazio Visco, the governor of the Bank of Italy, said.
Italy has been without a government since inconclusive elections on 4 March, at which voters flocked to anti-establishment and far-right parties the Five Star Movement and League Nord to leave a hung parliament.
Carlo Cottarelli, a former International Monetary Fund official, has accepted a mandate to form a technocratic and politically "neutral" government, but has admitted Italians could face a snap poll if he does not win parliamentary support for his interim administration.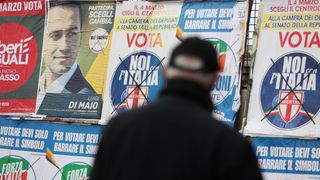 Investors fear there is a risk of the eurozone breaking up as fresh elections might give the two populist parties a more eurosceptic mandate.
Renewed concerns caused the Frankfurt-based Sentix research group's eurozone break-up index to climb to its highest level since April 2017, when investors feared a eurosceptic Le Pen presidency in France.
In afternoon trading on Wall Street, the Dow Jones Industrial Average dropped 1.77%
The FTSE 100 closed down 1.26% – its lowest level in almost three weeks – as it resumed trading after the bank holiday weekend. RBS and Barclays were among the biggest fallers with shares tumbling more than 3%.
The stress in Italy also spread to other eurozone markets, with Portuguese stocks sliding by 2.6%,
In Spain, which is in the throes of its own political crisis as Prime Minister Mariano Rajoy faces a no-confidence vote later this week, stocks closed down 2.4%.
Banco Santander, the eurozone's biggest bank by market capitalisation, fell by 5% and BBVA by 4%.
The pan-European STOXX 600 fell by 1.37% – with banks the worst-performing, while the eurozone's banks index tumbled by 4.3% and was on track for its biggest monthly drop since the Brexit vote in June 2016.