Stephen Hawking: Ballot opens for Westminster Abbey service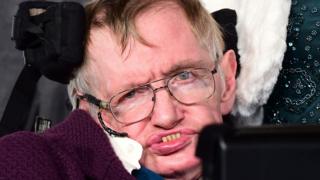 The public is being offered the chance to attend a service of thanksgiving for Professor Stephen Hawking, who died in March aged 76.
It will take place in Westminster Abbey on 15 June and up to 1,000 tickets are available in a ballot.
During the service, the scientist's ashes will be interred between Sir Isaac Newton and Charles Darwin.
His daughter, Lucy Hawking, said she wanted to give some of her father's admirers the chance to remember him.
The family were grateful to Westminster Abbey for giving her father "such a distinguished final resting place", she said.
The Dean of Westminster, The Very Reverend Dr John Hall, said the event would celebrate "not only his remarkable achievements as a scientist, but also his character and endurance through his years living with a devastating illness".
See also
Professor Hawking is considered one of the world's most renowned theoretical physicists.
His funeral was held on 31 March at the university church, Great St Mary's, in Cambridge.
Actor Eddie Redmayne, who played Professor Hawking in the film about his life, The Theory of Everything, was one of several speakers there.
In addition to Professor Hawking's friends and family, the service will be attended by colleagues, academics and schoolchildren.
Afterwards, Westminster Abbey will open its doors to the public to allow people to pay their respects at his grave.
The ticket ballot closes at midnight on 15 May, and applications can be made at stephenhawkinginterment.com.