Stand-up comedian Louise Reay sued by ex-husband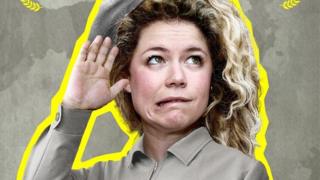 An award-winning comedian is being sued for £30,000 by her ex-husband after using material about their marriage in a show at the Edinburgh Fringe.
Louise Beamont, whose stage name is Reay, has been accused by Thomas Reay of defamation and breach of privacy.
It follows her 2017 show called Hard Mode about freedom of speech, which was later performed in London.
Mr Reay is also understood to be seeking legal costs and an injunction against Ms Beamont.
The pair married in 2013, but separated before she wrote the script for the performance, which mentioned her previous relationship and focuses on what would happen if the BBC came under the control of the Chinese government.
'Main gist'
Ms Beamont has now set up a fundraising page to pay for her defence of the legal action, which she says could bankrupt her.
On the Gofundme page, the comedian wrote: "During that show, I referred to my husband a couple of times – perhaps two minutes' worth of reference in a 50-minute show.
"The main gist of those references was to tell the audience how sad I was that my marriage had broken down recently.
"He is seeking £30,000 damages, his legal costs (which I can only assume will be massive) and an injunction stopping me from publishing statements about him."
Ms Beamont, who stays in London, said she would not comment on the case beyond her statement on the fundraising page because of legal reasons.
She added: "As stand-up comedians, I believe it's the very definition of our job to talk about our lives and social issues.
"So this has become a free speech issue."
However, Mr Reay's solicitors denied the action was about preventing free speech and said that her material had suggested the couple's relationship was abusive.
'Private information'
In a statement, Taylor Hampton Solicitors Limited said: "We have from the outset made clear to Ms Beamont that our client is not in any way seeking to restrict or 'silence' her comedy or its content, except to the very limited extent that it involves the publication of unjustified false allegations and private information relating to him.
"For an extended period last summer, following their separation, Ms Beamont repeatedly performed a comedy show which identified our client verbally and in still and moving images, contained private information about him and his relationship with Ms Beamont, and made very serious and inflammatory allegations of wrongdoing against him.
"These allegations included the entirely false suggestion that our client's relationship with Ms Beamont was an abusive one."
The solicitor said their client was "harassed" by the performances and that the material had caused him "enormous distress".
Their statement added: "No right to freedom of expression or artistic licence can extend to the publication of such seriously defamatory and false allegations, or the unjustified misuse of our client's private information."