Stabbed burglar Henry Vincent funeral: Teenager arrested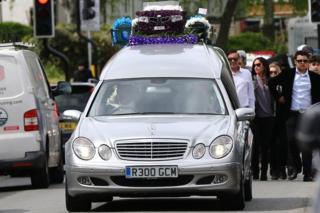 A teenager was arrested on suspicion of assault outside the funeral of a burglar who was stabbed to death during a break-in in south-east London.
The male was arrested following an "incident" during the funeral of Henry Vincent, 37, police said.
There was a heavy police presence and members of the public and journalists were advised to stay away as tempers flared.
The arrested youth has been released under investigation.
There was concern of a possible confrontation between the bereaved and supporters of Hither Green homeowner Richard Osborn-Brooks.
The 78-year-old was initially held on suspicion of murder following Mr Vincent's death, but he was later released with no further action.
A cordon was set up around St Mary's Church in St Mary Cray for the service.
The body of Mr Vincent was carried in a silver Mercedes, which was followed by a long convoy of vehicles, with other people walking behind the cortege.
Some mourners shouted abuse after seeing photographers waiting near the church and a missile was thrown, according to the Press Association.
One man, who said he was "on the way back from a job interview", claimed he was hit by an egg as the procession passed.
Floral tributes and balloons for Mr Vincent were repeatedly attached and then removed from a fence in South Park Crescent shortly after he died.
Police circled the area around Osborn-Brooks' house during the morning, but there were no reports of trouble there.