Sports Personality – how the night unfolded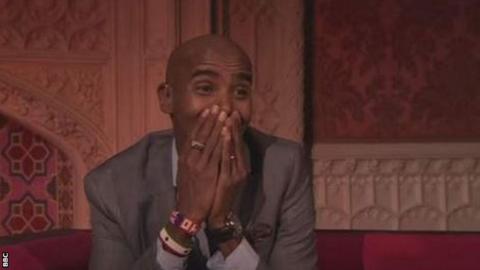 It's the highlight of the sporting calendar here at BBC Sport, with inspiring stories and sporting achievements capturing the heart of the nation.
The star-studded night culminated with Sir Mo Farah being named BBC Sports Personality of the Year 2017, but there were plenty of other talking points throughout the show in Liverpool's Echo Arena.
Missed the action-packed evening? Here's how the night unfolded on social media.
Let's start with the big news of the night…
This content will not work on your device, please check Javascript and cookies are enabled or update your browser
And then came the congratulations…
This content will not work on your device, please check Javascript and cookies are enabled or update your browser
This content will not work on your device, please check Javascript and cookies are enabled or update your browser
This content will not work on your device, please check Javascript and cookies are enabled or update your browser
The star of the night took to Instagram to express his gratitude (and shock, no doubt)…
This content will not work on your device, please check Javascript and cookies are enabled or update your browser
But no one was as shocked as this anonymous person (don't try this at home)…
But the four-time Olympic champion was nearly upstaged thanks to his adorable son Hussein, who decided a live interview earlier on in the programme was the optimum time to find his 15 minutes of fame.
This content will not work on your device, please check Javascript and cookies are enabled or update your browser
Naturally, social media loved it.
And who could forget that Tom Daley moment during the #SPOTY Social?!
In case you missed it, the Olympic diver was single-handedly lifted in the air by the world's strongest man.
Have a watch at his reaction – it's safe to say he wasn't expecting it!
But the night couldn't have gone ahead without a special mention for Bradley Lowery, whose mum and dad Gemma and Carl accepted the Helen Rollason Award on their son's behalf.
Bradley, who died aged six from a rare form of cancer in July, was honoured with the award for his achievements in the face of adversity.
This content will not work on your device, please check Javascript and cookies are enabled or update your browser
Strictly and Spoty in one weekend?
Jonnie Peacock's Strictly Come Dancing partner Oti Mabuse was rooting for him, as was his Strictly co-star Chizzy Akudolu, who jumped on the SPOTY bandwagon to support the sprint runner.
Side note: there wasn't a Charleston or an Argentine Tango in sight!
This content will not work on your device, please check Javascript and cookies are enabled or update your browser
And his mum was absolutely over-the-moon. What an emotional message.
Then came the tweet from the man himself.
This content will not work on your device, please check Javascript and cookies are enabled or update your browser
And the news from Spoty also spread to the other side of the globe…
This content will not work on your device, please check Javascript and cookies are enabled or update your browser
But we couldn't write a social media reaction story without addressing the elephant in the room…
Okay, we're only kidding…
But seriously, live TV can cause all sorts of chaos…
Even our very own Dan Walker was left perplexed…
But overall, it was clear that SPOTY deserves its spot on the jam-packed sporting calendar.
This content will not work on your device, please check Javascript and cookies are enabled or update your browser
And on that note, we'll leave you with Mo Farah's priceless reaction.
This content will not work on your device, please check Javascript and cookies are enabled or update your browser
See you in 2018!