Sporadic fighting and shelling in northeastern Syria despite the ceasefire in Turkey's offensive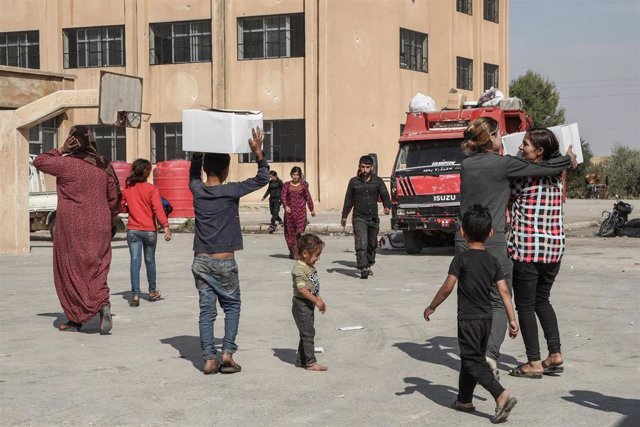 Displaced by Turkey's offensive in northeastern Syria – – / Rojava Information Center / dpa
BEIRUT, Oct. 18 (DPA / EP) –
The northeastern region of Syria bordering Turkey has recorded some sporadic fighting and shelling on Friday despite the five-day ceasefire in the Peace Spring operation agreed by the Turkish government with the United States, as reported by Syrian Kurdish sources and the Syrian Observatory for Human Rights.
Bombings and gunfire have been heard in the border town of Ras al Ain, although some areas where fighting had been reported have remained calm, according to the London-based organization and a broad network of activists in the territory Sirius.
Kurdish sources have told the DPA news agency that the Turkish bombings have impacted the town of Ras al Ain and that a local hospital that welcomes many injured in the offensive has been hit by a bombing.
U.S. Vice President Mike Pence announced Thursday that Turkey will suspend the Turkish military offensive for 120 hours to allow Syrian Kurdish fighters to withdraw from the so-called 'safe zone' that Turkey wants to create in northeastern Syria.
The Syrian Democratic Forces (SDS), led by the Syrian Kurdish militiamen of the Popular Protection Units (YPG), have accepted the ceasefire that came into effect at 10 pm Thursday and have trusted Turkey to respect it.
The SDS military commander Mazlum Abdi said Thursday that his militiamen will do "everything necessary for the ceasefire to be fulfilled." Turkish President Recep Tayyip Erdogan, who ordered the start of the offensive on October 9, has justified it on the grounds that it will allow Syrian Kurdish militiamen and those of Islamic State to be expelled from the region.
Turkey considers the YPG Syrian Kurdish militia as an extension of the Kurdistan Workers Party (PKK), a group that it regards as a terrorist organization. The United States has supported the YPG in its military campaign against the Islamic State in Syria and its role has been key to the defeat of the terrorist group led by Abu Bakr al Baghdadi.