Spain responds with the expulsion of three diplomats from the Bolivian delegation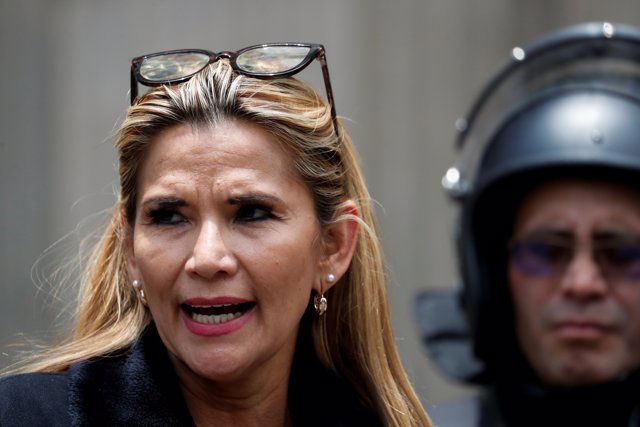 Jeanine Añez, interim president of Bolivia – REUTERS / CARLOS GARCIA RAWLINS
MADRID, Dec. 30 (EUROPE PRESS) –
The Spanish Government has responded to the expulsions of members of the Spanish diplomatic delegation in La Paz with the expulsion of three Bolivian diplomats stationed in Madrid, as Europa Press has learned. The answer is a measure of habitual reciprocity in these types of cases.
On Monday, the president of Bolivia, Jeanine Áñez, has given 72 hours to the Spanish diplomat who visited the Mexican ambassador in La Paz on Friday as well as the latter to leave the country after the incident that occurred as a result of said visit.
"The constitutional government that I preside over has decided to declare a person non grata to the ambassador of Mexico in Bolivia, María Teresa Mercado, to the charge of business of Spain in Bolivia, Cristina Borreguero, to the consul of Spain in Bolivia, Álvaro Fernández, and to the group of the allegedly hooded and armed diplomats, "he said.
"This group of representatives of the governments of Mexico and Spain has seriously injured the sovereignty and dignity of the people and the constitutional government of Bolivia," said Áñez, according to local media.
In this regard, he has assured that "hostile behavior trying to enter Mexico's residence in Bolivia in a surreptitious and clandestine way by challenging Bolivian police officers and the citizens themselves are facts that we cannot pass up."
The head of business of Spain in Bolivia, Cristina Borreguero, came early in the morning of Friday to the ambassador of Mexico, in what the Spanish Government has defined as "courtesy visit", after the Aztec country had denounced an increase in the Bolivian police presence around the Mercado residence and the Embassy itself in previous days, triggering a crossing of reproaches between the two countries.
The visit was seen by some sectors in the Andean country as an attempt to remove political asylees from there, something that the Spanish Ministry of Foreign Affairs has flatly ruled out.
At the end of the visit, the vehicles in which Borreguero arrived could not return to the residence of the Mexican ambassador to pick it up, since the Bolivian Police prevented it, presumably by the presence of people hooded in them and "presumably armed", as denounced by the Bolivian Foreign Minister, Karen Longaric.
Given these events, the Ministry that directs Margarita Robles on an interim basis announced the opening of an investigation, but this did not placate the mood in Bolivia, where former President Jorge 'Tuto' Quiroga, presidential delegate to the international community, made a hard Sunday statements and asked the president of the Spanish Government, Pedro Sánchez, to apologize to Bolivia.
"How embarrassing that Pedro Sánchez is operating with branches to extract criminals, white and fraudulent criminals who know about the Castro and Chavista project," Quiroga said, referring to the four police officers who accompanied the Spanish diplomatic delegation during the visit.