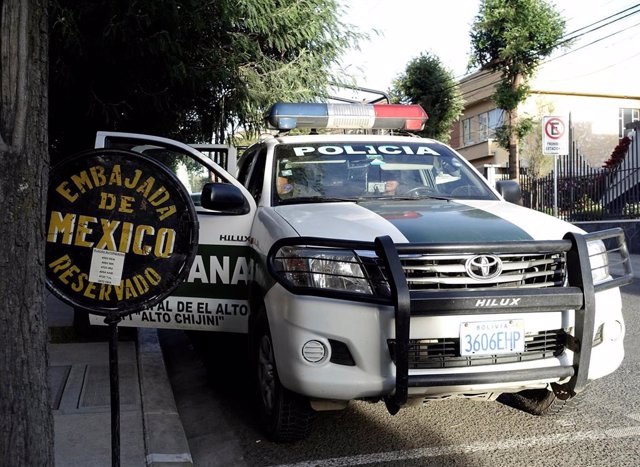 A police vehicle in front of the Mexican Embassy in La Paz – REUTERS / DAVID MERCADO
Bolivian media publish the personal data of the police, which has been criticized by police unions
MADRID, Dec. 29 (EUROPE PRESS) –
The Spanish Embassy in La Paz has informed the Ministry of Foreign Affairs of Bolivia of the return of six members of the
diplomatic corps through a verbal note dated December 26, one day before the incident occurred at the Mexican Embassy. The official document leaked to the press contains names of the six and their passport numbers, which has been criticized by Spanish police unions.
The verbal note explains to the General Directorate of the State Ceremony that "on December 28 the personnel who entered last November 14 will return to Spain as technical support for the diplomatic legation in La Paz".
In response to the publication of the identities of the agents, the Spanish Confederation of Police (CEP) has denounced that this "jeopardizes their identity and their physical integrity by filtering their passports that, obviously, can only come from agencies Bolivian audiences. " The CEP recalled that the presence of these police officers in Bolivia is related to the GEO's own missions, which in the foreigner were the protection of diplomats and embassies.
For its part, the Unified Police Union (SUP) has defended this Sunday the work of the agents of the Special Operations Group (GEO) involved in the incident and has ensured that they performed their work "with full respect for international law and without respond to the provocations of a group of citizens. " In addition, they ask the political parties to avoid "using the National Police in their partisan struggle."
On December 27, the charge of business of the Embassy of Spain, Cristina Borreguero, went to the official residence of the Mexican Embassy in two cars, but Bolivian police prevented the passage of two vehicles and security personnel – at least four individuals – they left the car hooded and presumably armed, according to the Bolivian authorities, who consider this act a "run over" to the sovereignty of Bolivia.
Madrid says it was a "courtesy" visit and denied that they intended to facilitate the departure of former senior officials of the government of former President Evo Morales. Inside the Mexican Embassy are approximately ten former leaders as political asylees, four of them with an arrest warrant.
They are the former Minister of the Presidency Juan Ramón Quintana; the former Minister of Cultures Wilma Alanoca; the former governor of Oruro Víctor Hugo Vásquez and the former director of the Agency for Electronic Government and Information and Communication Technologies (AGETIC) Nicolás Laguna.