Spain paralyzes the sale to Turkey of weapons "liable to be used in the operation in Syria"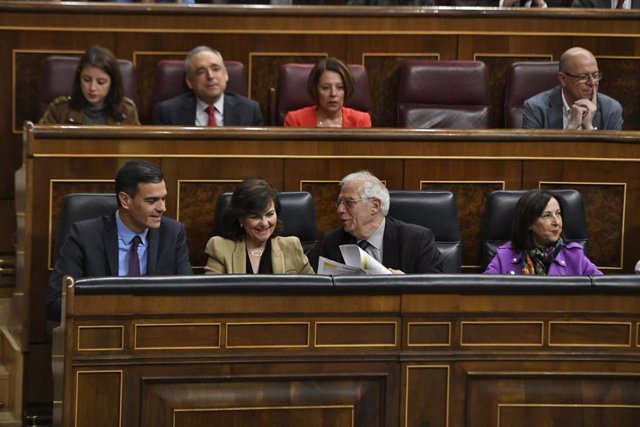 The president of the Government, Pedro Sánchez; the vice president, Carmen Calvo; the Foreign Affairs Department, Josep Borrell; and the Minister of Defense, Margarita Robles. – Oscar del Pozo – Europa Press – Archive
MADRID, Oct. 15 (EUROPE PRESS) –
The Government announced on Tuesday that Spain will deny new export licenses to Turkey of defense material that is "liable to be used in the operation in Syria", after the military offensive of the Recep Tayyip Erdogan Government in the northeast of the country.
In a statement, the Pedro Sánchez Executive has condemned the Turkish military action in Syria, which has denounced that it is having "disastrous humanitarian consequences" that "add to the deep and long suffering of the Syrian people."
In addition, he regrets that this offensive increases the "already considerable" number of refugees and displaced persons, "hinders" humanitarian aid and "endangers the stability and security of the region."
The Spanish Government believes that the military action undertaken by Turkey "makes it more difficult" to achieve peace in Syria and also "gives new life" to the Daesh terrorist organization; all of this jeopardizing "the unity, sovereignty and territorial integrity of the Syrian State".
With all this, the Government has decided to deny new export licenses for military equipment that is likely to be used on Syrian soil, as the foreign ministers, Josep Borrell, and Defense Ministers had advanced in recent days. , Margarita Robles.
In the Executive's view, Turkey must address its "legitimate security concerns" through "political and diplomatic" means and never through military actions.
In this context, the Government recalled that the Spanish military participating in Turkey in a NATO mission with a Patriot missile battery do so with the aim of "contributing to the peace and stability of the region."