Southern: 'Don't travel to Brighton' amid Gatwick 'chaos'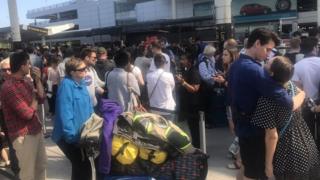 Passengers say there is "absolute chaos" at Gatwick Airport because of overcrowding on rail replacement services on the Brighton mainline.
Southern is advising people not to travel to the coast as there are no direct trains from London due to engineering work.
People are waiting about two hours to board replacement buses, National Rail said.
Disruption is expected to last until the end of the day and into Monday.
'Absolutely rammed'
Southern posted on their website: "There are currently large queues for the replacement bus services at Gatwick Airport and overcrowding at the station.
"As a result, customers should anticipate extended journey times and cancellations between London Victoria and Gatwick Airport to prevent further overcrowding.
"Services from Brighton towards London Victoria after 17:00 are expected to be extremely busy and journey times to be extended as a result."
The line between Gatwick Airport and Three Bridges is closed over the bank holiday weekend, affecting Southern and the Gatwick Express.
Buses are running between the two stations.
Passenger Aimee Atkinson made it back to Brighton but said the "trains were absolutely rammed".
She tweeted: "Absolute chaos and fights @Gatwick_Airport trying to get rail replacement to Brighton @SouthernRailUK sort it out! A few workers trying to manage hundreds of people. My mum had to step in and help with crowd control."
Southern apologised and said "Demand has been incredibly high and we have been getting as many buses as possible through to reduce queues."
It added that services on Monday "are expected to be extremely busy as further good weather has been predicted".