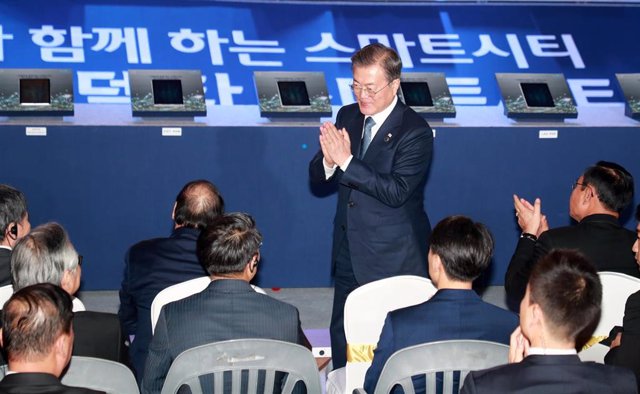 Moon Jae In, President of South Korea – – / YNA / dpa
SEOUL, Nov. 25 (DPA / EP) –
The South Korean Ministry of Defense has criticized the North Korean regime for artillery maneuvers carried out by the North Korean Armed Forces near the maritime border between the two countries.
The South Korean Ministry of Defense has said that the shooting maneuvers involve a violation of the bilateral military agreement reached in September 2018. The South Korean Ministry of Defense has stressed that the North Korean regime must stop all its military activities in the border region.
North Korean state media have previously reported that North Korean leader Kim Jong Un has ordered shooting maneuvers during an inspection of a military company on Changrin Island in the Yellow Sea.
"The military of the coast artillery company have fully shown their shooting capabilities that they have been cultivating with daily training to the full satisfaction of the supreme leader," the official KCNA news agency reported. It is not clear when the shooting exercises were performed.
A spokesman for the South Korean Ministry of Defense has confirmed that shooting exercises were conducted on the island near the sea border. In the course of an approach between the two countries in 2018, the Armed Forces of the two countries agreed on measures to build trust and avoid incidents at the border between the two countries, highly militarized.
Among other issues, the North Korean regime has asked South Korea not to act as an intermediary in its relations with the United States. In recent times, North Korea has raised its criticism for the joint maneuvers between the United States and South Korea.
Since the failed summit in Vietnam in February of the president of the United States, Donald Trump, with the North Korean leader, Kim Jong Un, contacts between the two countries have not made progress in terms of denuclearization.