South Africa gold mine: Rescue underway for 955 trapped workers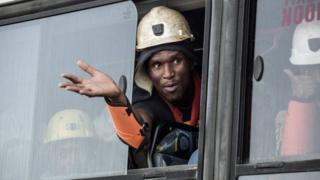 A rescue operation is underway to release 955 workers from a gold mine in South Africa after a power cut left them trapped.
A spokesman for the mine's operating company said on Friday morning that power had been restored to a lift to release them.
The miners have been trapped underground since Wednesday night.
South Africa is a leading gold producer, but safety in the industry is often questioned.
The Beatrix mine is in Welkom town, about 290km (180 miles) south-west of Johannesburg. It is owned by Sibanye-Stillwater mining firm.
It has 23 levels, going down to 1,000 metres (3,280 ft) below ground.
The workers are expected to get taken for food and showers upon their release, before having medical health checks.
A reporter for the AFP news agency said several ambulances arrived overnight at the site.
Company spokesman James Wellsted said there was "no indication so far that anyone has been in distress", but that counselling has been made available to the workers and their families.
On Thursday he said water and food supplies had been able to reach the miners, but engineers were struggling to get emergency generators operating.
The power outage is believed to have been caused after a storm knocked over an electricity pylon close to the site.
Trade union officials had said they feared that the lives of the miners were at risk.
More than 80 fatalities were recorded in South African mines in 2017.