Sophie Lionnet: Couple guilty of murdering French au pair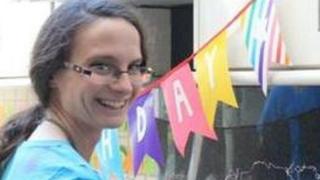 A couple obsessed with an ex-Boyzone singer have been found guilty of murdering their French au pair and burning her body in the garden.
Sabrina Kouider and Ouissem Medouni were convinced Sophie Lionnet was plotting to abuse people in their home, with the help of singer Mark Walton.
They tortured Ms Lionnet before her charred body was found at a house in south-west London on 20 September.
At the Old Bailey, the couple admitted burning her body but denied murder.
Judge Nicholas Hilliard QC said he was sure the allegations against Ms Lionnet had "no truth whatsoever".
He will sentence Medouni, 40, and Kouider, 35, on 26 June.
The court heard the couple applied "pressure and relentless intimidation" to get Ms Lionnet to admit Kouider's ex-boyfriend Mr Walton, who was a founding member of Boyzone, had come to the house, and drugged and sexually abused the occupants.
Jurors heard more than eight hours of recordings in which Ms Lionnet was slapped and called "worse than a murderer" by her tormentors.
Kouider and Medouni dunked her head into water, starved her, hit with an electrical cable and beat her so badly she had five broken ribs and a cracked breast bone.
Hours before her death, a filmed "confession" showed an emaciated Ms Lionnet admit she had drugged Medouni so Mr Walton could sexually assault him.
Prosecutor Richard Horwell QC told jurors that Kouider and Medouni had an "unhealthy, myopic, all-consuming and groundless" obsession with Mr Walton, which deprived them of reason and turned their au pair into "something less than human".
After killing her in the bath, the couple threw Ms Lionnet on a bonfire in the garden of their home in Southfields as they barbecued chicken nearby.
When neighbours alerted firefighters to the pungent-smelling smoke, Medouni said the charred remains were a sheep.
The pathologist's findings suggested Ms Lionnet suffered blunt force trauma to the head, neck and chest but the cause of death was unclear due to the burning of her body.
In a statement read to the court, Ms Lionnet's mother said her daughter was killed by "self-obsessed monsters".
Catherine Devallonne added: "They starved, tortured and broke her until she could no longer fight. They took away her dignity and finally her life.
"Our Sophie will soon be laid to rest. No god will ever forgive you both for what you have done to our daughter."
Ms Devallonne had paid for a flight for Ms Lionnet to return home to Troyes in France the week after her death, but her ticket was never found.
The victim's father Patrick Lionnet said what the couple did to his daughter was "beyond comprehension" and "unforgivable".
"Sabrina and Ouissem have not only stolen the life of my daughter so brutally and without remorse, they have also stolen mine," he added.
After Kouider and Mr Walton split up, she received a caution for branding him a paedophile on a fake Facebook profile.
She reported him to police more than 30 times and also accused him of sexually abusing a cat, using black magic and hiring a helicopter to spy on her.
Mr Walton, who travelled from his home in Los Angeles to give evidence during the trial, told jurors that Kouider would "flip" during their "turbulent" two-year relationship.
He told the court he would support the fashion designer with thousands of pounds every month, even paying her rent long after she left him.
In a written statement, ex-Blue singer Duncan James also denied claims by Medouni that he had threatened Kouider's landlord with a crowbar.