Sophia Peters: Father gets life for strangling daughter with dressing gown cord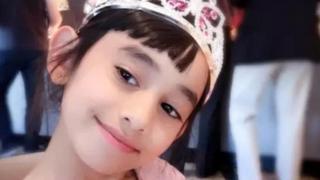 A father has been jailed for murdering his daughter by strangling her with a dressing gown cord at their family home in south-west London.
Robert Peters, 56, denied murdering Sophia Peters, seven, but changed his plea on the third day of his trial.
Sophia was killed just over a month after her depressed and suicidal father was found not to be a risk by a child protection team.
Mr Justice Edis jailed Peters at the Old Bailey for a minimum of 24 years.
Peters, who ran an antiques firm in Kensington, throttled Sophia at their house on Blenheim Road, Wimbledon, on 3 November.
He then called police to report what he had done. Sophia was rushed to St George's Hospital, Tooting, where she died the following day.
During sentencing, Mr Justice Edis described Peters as "deceitful and manipulative" and "calculating and disingenuous" in the way he hid his plans.
"This was a determined, premeditated killing in which there was an intention to kill," he said.
The judge said it was "impossible to imagine the last few conscious minutes of that child's life".
"Asleep in bed, she no doubt felt safe and believed that, should she need it, she had the protection of her father."
Sophia's mother Krittiya Peters said in a statement to the court that she had struggled to come to terms with the death of her daughter.
"Since Sophia died I have been on a rollercoaster of emotions.
"Sophia was a beautiful, loving, active, adventurous, brave and outgoing girl. She loved to dance and sing. I would give anything I have to be able to bring my daughter back."
The jury had heard that Peters told police he had financial worries and his business was going bankrupt – even though later inquiries found he had money in the bank.
The former Israeli soldier had also recently ended a two and a half-year affair with a married Home Office official he met online.
In the months before the killing, Peters searched the internet for "serial killers", "treatment of child killers in prison" and "premeditated murder".
He chose his opportunity to kill Sophia before she had been due to return to her boarding school after the half-term break.
Peters waited until his wife had gone out before he woke Sophia up in bed by tying a cord around her neck and throttling her for up to 30 minutes.
She asked him what he was doing and Peters said "sorry", but carried on as she struggled, the court heard.