Some 149 million children live in the middle of an open war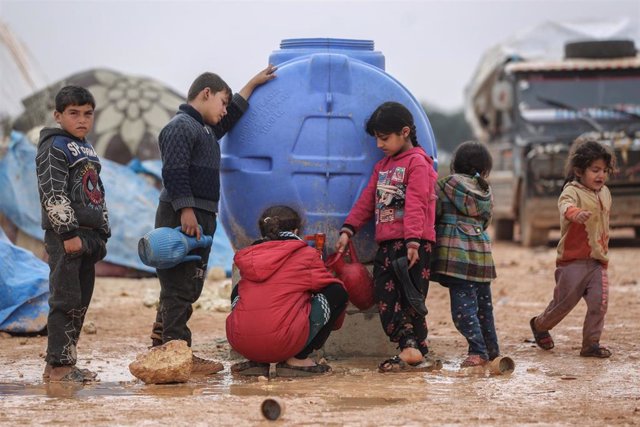 Displaced children in northwestern Syria – Anas Alkharboutli / dpa
MADRID, Feb. 13 (EUROPE PRESS) –
The number of minors living in war zones has fallen in the last year, but instead the number of those residing in the middle of a conflict of so-called high intensity has increased to 149 million, according to Save the Children, who has warned of double vulnerability in the case of girls.
The report figures at 415 million children in war zones, a decrease of five million in just one year, but at the same time warns that the worst crimes that can be committed against children continue to rise. Thus, 149 million children live in areas of high intensity conflict, in which there are more than a thousand deaths a year related to fighting.
Save the Children believes that boys have never been so exposed to violence before, to the point that in 2018 at least 12,125 girls and boys were killed or injured by conflict-related violence, 13 percent more than the year precedents The number of attacks on schools and hospitals also increased, specifically 32 percent, to 1,892 cases, according to UN data.
The director general of Save the Children Spain, Andrés Conde, has lamented that "the current wars are wars against children" and has labeled "chilling" that "the world remains motionless." "We demand that world leaders stop looking the other way and take effective action," he added.
The head of the NGO has warned that "since 2005, there have been at least 95,000 deaths or child mutilations, tens of thousands of children have been kidnapped and millions of them have been violated their access to education and care sanitary by the bombing of schools and hospitals. "
The Save the Children report includes a gender approach to assess the extent to which girls suffer more from certain abuses. Between 2005 and the end of 2018, there were almost 20,000 verified cases of sexual violence against minors – the figure would be higher – of which 87 percent correspond to girls.
"There are harassment and rapes, so we are the most affected in the conflicts and wars," explains Briska, who fled northeastern Syria with her five younger brothers and arrived at a camp in Iraqi Kurdistan. "I still consider myself a girl, so how could I assume the role of father and mother? Even in a safe place, such as the camp, we are afraid," says this 22-year-old girl.
Men, on the other hand, are more exposed to murders, mutilations, kidnappings and recruitment by armed forces or groups by spending more time away from home. Of the more than 2,500 children abducted by armed groups in 2018, 80 percent were boys.
Amir fled Iraq because of the war in Iraq, along with his mother and brothers, and ended up in a town in northeastern Syria. He suffered the impact of artillery fire and, as his mother says, "now he sometimes gets tired, cries and is in pain." Now, his life again in Iraqi territory is another: "Since we arrived at the camp, and he saw that there are no more bombings around, he has returned to school and says he feels better."