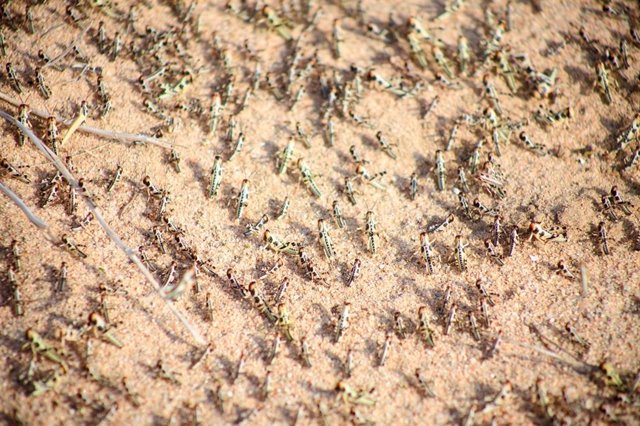 Desert lobsters in Somalia – FAO / ISAK AMIN – Archive
MADRID, Dec. 18 (EUROPE PRESS) –
Somalia faces the worst locust plague in 25 years that is affecting the pastures and basic crops of those living in rural areas of the country, which already suffers the ravages of the violence of the jihadist group Al Shabaab and the consequences of serious floods this year.
As the office in Somalia of the Food and Agriculture Organization (FAO) warned on Wednesday, there are already 70,000 hectares infected with adult larvae and insects in Galmudug, Puntland and Somaliland, which have already caused damage to crops and pastures as well. in Ethiopia.
In total, the prediction is that over the next six months some 100,000 hectares need direct control interventions against this pest, which will require a greater investment in the institutional, infrastructure and technical level for next year, underlined the FAO in a statement.
"We are talking about a medium and long-term intervention. The impact of our short-term actions will be very limited, but we can make a difference to support livelihoods and avoid major disastrous consequences if we act now," he stressed. FAO representative in Somalia, Etienne Peterschmitt.
The UN agency, which asks for 3 million dollars for the initial response, has acknowledged that the situation is much worse than anticipated and has been exacerbated by heavy rains and the recent passage of cyclone 'Parwan'. If not tied, the locust plague will spread to other areas in southern Somalia, Djibouti, Eritrea and northeastern Kenya, it has prevented.
FAO is already working with the Somali Ministry of Agriculture and other organizations in surveillance and control efforts in Somaliland and Puntland to prevent the plague from continuing to spread to the south and center of the country.
In addition, it has begun to fumigate with biopesticides in Somaliland. "Given the scale of the disaster, aerial spraying using airplanes would have been an ideal control measure. However, security conditions in much of Somalia do not allow it," Peterschmitt lamented.