Snake owner killed by his pet python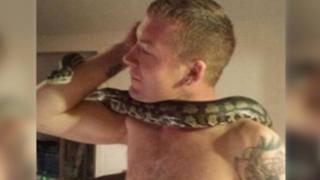 A snake owner was killed by his pet python, an inquest has heard.
Daniel Brandon, 31, died from asphyxiation at his home near Basingstoke, Hampshire, on 25 August.
One of the pets he kept at home – a female 8ft (2.4m) African rock python named Tiny – was found near his body, out of its pen.
Coroner Andrew Bradley said there was no doubt Mr Brandon died "as a result of contact with Tiny" and he recorded a verdict of misadventure.
The inquest at North Hampshire Coroner's Court heard Mr Brandon had kept snakes for 16 years and the python was "his baby".
His mother Babs told the hearing he kept 10 snakes and 12 tarantulas in his room at the family home.
She said he had owned Tiny since it was small enough to fit in his hand.
Her son never felt threatened by Tiny and was aware of how strong it was, she said, but there were occasions when it would "strike out" if she entered the room.
She said she discovered Mr Brandon unconscious in his bedroom on the night of his death and later found the snake coiled under a cabinet.
'Coiling around him'
Pythons kill by wrapping themselves around their prey and squeezing tighter and tighter but they rarely kill humans.
Mr Bradley said: "The most likely scenario is that Tiny was engaged with Dan – I have no doubt about that.
"She was coiling around him, at which point I have no idea. There was a point at which either she takes hold of him unexpectedly or trips him up or some other mechanism."
Mr Bradley said the snake then hid, probably "because of the shock of him falling or because of his reaction".
A statement issued by Mrs Brandon after the conclusion of the inquest described her son as "one of the funniest people you could wish to meet".
"I cry every day and night and relive that evening all the time," she said. "All the family wanted was answers to our questions, and I have no idea yet whether we have that or will."
Mr Brandon's social media pages showed him posing with snakes, including a Burmese python.
Friends set up a JustGiving page to raise money for the World Wide Fund for Nature (WWF) and the Royal Society for the Protection of Birds in his memory.
A friend posted: "Dan was obsessed with snakes, spiders, birds and all wildlife.
"We have struggled when looking for photos for his funeral to find any when he isn't holding a spider, snake, small bird, toad, slow worm, hedgehog, feeding a fox, stroking cattle, befriending a cat or dog so these charities seemed the perfect choice."