Six Nations: Who would make your greatest ever Scotland rugby team?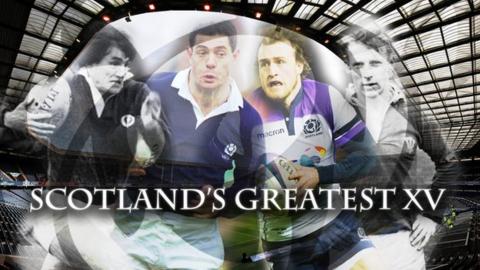 Which current Scotland stars would have been good enough to grace the Grand Slam-winning sides of 1984 or 1990?
Conversely, how would Scottish greats like John Jeffrey and Finlay Calder fare in today's game?
The number of truly great sides the country has produced could arguably be counted on one hand, but Scotland has produced a long list of top-class individual players.
So which players would you pick for the greatest Scotland XV of all time?
Take full-back, for example. Would you go with Ken Scotland, a British and Irish Lion in 1959 who was described as "the first true attacking full-back" when the role had been previously called for a safety-first approach?
Or maybe you would prefer Andy Irvine in the 15 shirt. The three-time Lion would figure in any conversation regarding Scotland's greatest ever player.
Gavin Hastings would surely feature in that debate too. He won 61 Scotland caps, captained the Lions on the 1993 tour of New Zealand and was, at his peak, considered one of the best full-backs in the world.
That sort of lofty standing applies to Scotland's current full-back, Stuart Hogg. The Hawick man is one of the most exciting players ever to represent Scotland. He has toured twice with the Lions and has won the Six Nations Player of the Tournament for the last two seasons – and he's still only 25.
Four full-back options of the highest calibre, but which one makes your greatest Scotland team?
You have four choices for each position, so 60 of the finest players in Scotland's history to choose from. Some positions had so many quality options that some truly great players have missed out.
Pick your team and share it and debate your selections by tweeting @bbcsportscot or visit our Facebook page.
Pick your Scotland Greatest XV
Choose 15 players for your greatest ever Scotland rugby team.