Sir Bradley Wiggins & Team Sky 'crossed ethical line' – doping in sport report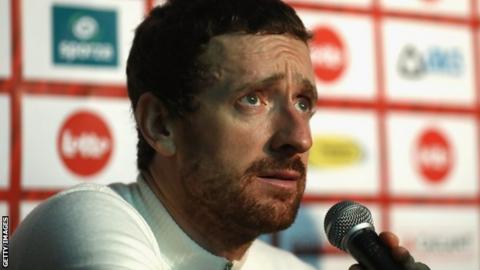 Sir Bradley Wiggins and Team Sky "crossed an ethical line" by using drugs allowed under anti-doping rules to enhance performance, instead of just for medical need, a report by MPs says.
The Digital, Culture, Media and Sport (DCMS) select committee said it is "not in a position" to state what was in the 'jiffy-bag' delivered to Wiggins at the 2011 Criterium du Dauphine.
But it added there is no "reliable evidence" to back up Team Sky's claim the medical package contained a legal decongestant.
The report also said Team Sky used the anti-inflammatory drug triamcinolone to prepare Britain's most decorated Olympian for the Tour de France, which Wiggins won in 2012.
A UK Anti-Doping (Ukad) investigation that closed in November was unable to establish if Wiggins had received a decongestant or, as alleged, triamcinolone, which is banned in competition.
'A devastating blow to some of British sport's biggest names'

Lord Coe gave 'misleading' answers on doping
If Wiggins was injected with triamcinolone on the final day of 2011 Dauphine it would be an anti-doping violation, with the maximum sanction a two-year ban and the loss of results.
"Drugs were being used by Team Sky, within World Anti-Doping Agency (Wada) rules, to enhance the performance of riders, and not just to treat medical need," the DCMS report added.
Team Sky said it "strongly refutes" the report's "serious claim that medication has been used by the team to enhance performance".
Wiggins said in a statement: "I find it so sad that accusations can be made, where people can be accused of things they have never done, which are then regarded as facts.
"I strongly refute the claim that any drug was used without medical need."
Triamcinolone is banned in competition under Wada rules, unless the athlete has a therapeutic use exemption (TUE), but is permitted out of competition.
Wiggins, 37, was granted TUEs to take the corticosteroid, which can treat allergies and respiratory issues, shortly before the 2011 Tour de France, his 2012 Tour win and the 2013 Giro d'Italia.
Q&A: Team Sky, Sir Bradley Wiggins and the 'mystery package'
While the report said this "does not constitute a violation of the Wada code", it claims it "does cross the ethical line" set out by Team Sky principal and founder Sir Dave Brailsford, who the report calls on to "take responsibility for these failures".
Regarding Wiggins' use of triamcinolone, former Team Sky and British Cycling coach Shane Sutton told the committee "what Brad was doing was unethical but not against the rules".
The long-awaited report, entitled 'Combatting Doping in Sport', also states International Association of Athletics Federations president Lord Coe gave "misleading answers" in evidence about his knowledge of doping allegations in Russian athletics, before they were made in a German television documentary in 2014.
The DCMS committee was also "shocked" that four-time Olympic champion athlete Sir Mo Farah received an injection of the legal supplement L-carnitine before the 2014 London Marathon that was not recorded on Farah's medical records.
On cycling, Wiggins and Team Sky, the report also states:
The TUE system is open to abuse despite welcome reforms by Wada
Wada should introduce a complete ban on corticosteroids such as triamcinolone
Concern at the use of painkiller Tramadol by Team Sky and others and asks Wada to consider banning it
The Ukad investigation into the mystery package was made harder by British Cycling and Team Sky's failure to keep proper records
As a result, UK Sport should determine an amount of compensation due to Ukad from British Cycling and Team Sky to cover the costs of the investigation
Brailsford must take responsibility for "the damaging scepticism about the legitimacy of his team's performance and accomplishments"
The jiffy-bag mystery
Former British Cycling and Team Sky doctor Richard Freeman received a 'mystery package' for Wiggins on 12 June 2011 – the final day of the Criterium du Dauphine in France, an event Wiggins won.
At the request of Freeman, Sutton arranged for then British Cycling coach Simon Cope to bring the package – he claims left for him in a sealed jiffy-bag – out to La Toussuire for the end of the race.
Both Cope and Sutton deny knowing what was in the package, although Sutton told the committee he believes Freeman did administer the substance in it to Wiggins after the race, adding that Freeman had told him, "Brad's been sorted".
Ukad started an investigation into the contents of the package in September 2016, following an allegation, also seen by the DCMS committee, that it contained triamcinolone,
As the DCMS report states, if Wiggins was treated with triamcinolone on 12 June 2011 without a TUE, it would be an anti-doping rule violation. The maximum penalty for such a violation is a two-year ban and the loss of results. Wiggins won the Tour and time trial gold at the London Olympics in 2012.
Although triamcinolone is not prohibited out of competition, under the anti-doping rules of cycling's world governing body the UCI a rider is still considered in competition until midnight on the day an event ends.
In December 2016, Brailsford told a DCMS hearing that Freeman had told him it contained "fluimucil for a nebuliser". Fluimucil is a legal decongestant used to clear mucus.
Ukad brought no charges after concluding its investigation in November 2017 but said it had been "unable" to prove the package contained fluimucil.
The DCMS report also said it had "no verifiable evidence" the package contained fluimucil, after Dr Freeman – "the only reported source of this information" – refused to confirm its contents to the committee, citing legal advice.
Yet the committee could not say it was triamcinolone, criticising Team Sky and British Cycling for a "serious failure" in lacking records of the medication sent.
"Such failure was unprofessional and inexcusable, and that failure is responsible for the damaging cloud of doubt which continues to hang over this matter," it added.
In reply, Team Sky said: "We take full responsibility for mistakes that were made. We wrote to the committee in March 2017 setting out in detail the steps we took in subsequent years to put them right, including, for example, the strengthening of our medical record keeping."
In a letter revealed by the BBC in January, Ukad claimed its investigation had been "hindered" and may have even been "potentially compromised" by British Cycling's failure to report doping allegations sooner.
The body criticised the "lack of accurate medical records" held by British Cycling. Dr Freeman kept Wiggins' medical records on a laptop that was stolen while he was on holiday in Greece in 2014, and no back-up copy was made.
Dr Freeman submitted written evidence for the report but was too unwell to appear at a DCMS hearing, before resigning from British Cycling in October because of ill health.
In a statement, British Cycling CEO Julie Harrington said the organisation had "implemented new procedures to ensure that we operate to the highest standards" and that there was no longer "blurred boundaries" between itself and Team Sky.
She added: "Never again will we allow a situation to develop whereby our independence as the national governing body is called into question because of our relationship with a professional team."
Performance enhancement or medical need?
After Russian hackers Fancy Bears released details of Wiggins' TUEs in September 2016, he told the BBC's Andrew Marr Show he took triamcinolone to "put himself back on a level playing field".
Wiggins said he is "a lifelong sufferer of asthma" and used it to treat allergies and respiratory problems and not to gain an "unfair advantage".
The DCMS report said it received "confidential material from a well-placed and respected source" about Team Sky's medical policy between 2011 and 2013 that states Wiggins and a smaller group of riders trained separately from the rest of the team in preparation for the 2012 season.
"The source said they were all using corticosteroids out of competition to lean down in preparation for the major races that season," the report said.
"This same source also states that Bradley Wiggins was using these drugs beyond the requirement for any TUE."
The report concludes that Team Sky were using the "powerful corticosteroid" triamcinolone to prepare Wiggins and "possibly others riding supporting him" for the Tour de France.
It added: "The purpose of this was not to treat medical need, but to improve his power-to-weight ratio ahead of the race."
Wiggins was granted a TUE on 26 June 2012, four days before the start of the Tour.
"The application for the TUE… also meant he benefited from the performance-enhancing properties of this drug during the race," the report said.
Team Sky said it "strongly refutes" the allegation the use of triamcinolone was widespread before the 2012 Tour.
"We are surprised and disappointed that the committee has chosen to present an anonymous and potentially malicious claim in this way, without presenting any evidence or giving us an opportunity to respond," it added.
"This is unfair both to the team and to the riders in question."