Sinn Féin leader announces the opening of negotiations to form a government in Ireland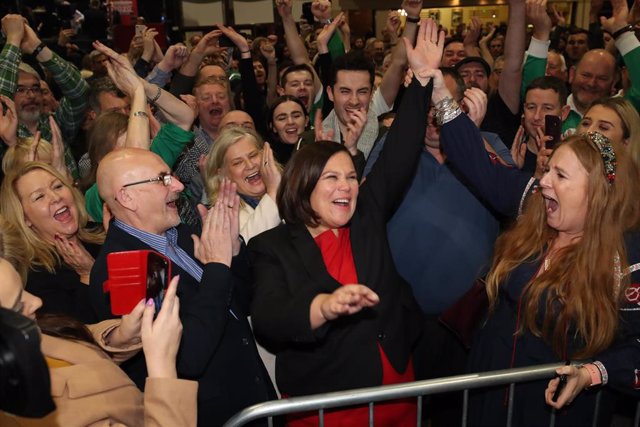 Sinn Féin leader Mary Lou McDonald – Niall Carson / PA Wire / dpa
Fiana Fáil does not rule out now agreeing with Sinn Féin despite his former relationship with the IRA
The leader of the Irish party Sinn Féin, Mary Lou McDonlad, has announced the opening of talks with other political formations with the intention of negotiating the formation of government after the first results point to a significant rise in her formation in the legislative elections of this Saturday. The Fiana Fáil party now does not rule out agreeing with Sinn Féin, but the Fine Gael maintains its rejection.
Of the 16 constituencies that have reported official results so far – out of a total of 39 -, in eleven of them the Sinn Féin candidates are the most voted, which would achieve at least one representative in each. Thus, of the 159 seats in play, only 16 are already assigned, and 14 of them are for Sinn Féin.
The ballot box survey published on Saturday night pointed to a triple tie between Sinn Féin, Fine Gael and Fiana Fáil with 22 percent of votes each, but the results already counting indicate that Sinn Féin could be the winner of these elections.
McDonald has specifically mentioned the Green Party, the Social Democratic Party and Solidarity-The People In Front of the Benefits, three minority and left-wing parties that will probably also gain representation.
"I have also said on other occasions that I will speak and listen to everyone. I think that is what adults do and that is what democracy demands," McDonald said in statements from the Royal Dublin Society headquarters in the Irish capital.
With these contacts, he seeks to explore whether the formation of government would be possible and in that sense he has reproached the leaders of the two traditional parties – Leo Varadkar of Fine Gael and Micheál Martin of Fianna Fáil – who refuse to speak with Sinn Féin.
McDonald has acknowledged that he has been surprised by the increase in support for Sinn Féin and that they should have presented more candidates. "It is a great declaration of change. There is no longer a bipartisan system. People want a different type of government," he argued.
Former Sinn Féin leader Gerry Adams has said he was confident that Sinn Féin would retain his seats, but could not foresee the extent of the formation's success.
FIANA FÁIL OPENS THE DOOR TO DIALOGUE
For his part, the leader of Fianna Fáil, Micheál Martin, has expressed his willingness to negotiate a possible government with Sinn Féin or with Fine Gael and has claimed himself as a "democrat" who "listens to people."
In campaign Martin has ruled out any kind of understanding with McDonald or Varadkar. "I think we should let things calm down," he told RTE public television. "We will evaluate the complete count and the total numbers of seats," he said without ruling out possible coalitions at any time.
As a condition for a possible agreement, he has avoided mentioning the "moral" problems with Sinn Féin raised in the campaign for the relationship between McDonald's party and the armed struggle of the Irish Republican Army (IRA) in Northern Ireland and has focused on Change in the possible government program. "It must be consistent, sustainable and achievable," he has riveted.
In any case he has recognized a political change, "a different, fragmented picture in which I think it will be very difficult to form a government and I hope there is no period of instability ahead."
For his part, the leader of the Fine Gael party and outgoing prime minister, Leo Varadkar, has reiterated his rejection of any type of agreement with Sinn Féin. "A forced marriage would not result in good governance," he said.