Simonfromharlow school trip tweets 'largely fictional'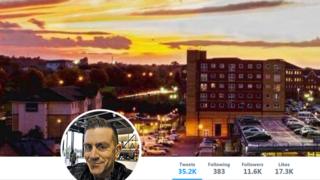 A dad whose account of helping out on a school trip captivated Twitter has admitted it was "largely fictional".
Users were hooked to one-time Apprentice hopeful Simon Smith's tweets about the "utter carnage" of a day out with 60 ten-year-olds.
Thousands shared his posts, including vivid descriptions of vomiting, flatulence and crying children.
But after the attention "got out of hand", Mr Smith admitted the now-deleted thread was mostly made up.
It was, however, "anchored on some genuine quotes", he added.
'Repugnant eggy smell'
Mr Smith, from Harlow, Essex, said he volunteered to help out on his daughter's school trip to the Science Museum in London.
Using the Twitter handle @simonfromharlow, he posted throughout the day, with a "repugnant eggy smell" on the coach and "continuous mindless chatter" among his frustrations.
At the end of the day, he vowed he was "never doing this again" and declared he was "shoving my own kid on eBay as soon as we get home".
But after the media started asking for interviews he revealed the truth.
"Something that started out as a light-hearted Twitter thread has spiralled out of control and I've deleted it to avoid causing people any further upset," he said.
"If Monday's thread caused you any offence at all, I'm very sorry… At no point during the day were any real children put in any danger or threat.
"It was honestly just a joke that got a little out of hand… If it made you laugh, then that was the point and if it didn't? Well I'm sorry."
'Rang true'
Some of his 11,600 followers have expressed dismay that the "hilarious" thread had been removed.
One said: "I thought it was genius. So did my office. So did my teacher wife. And her teacher friends. And everyone else I know who've read it. Anyone who's offended hasn't supported on a school trip."
Another replied: "It was hilarious, you don't need to be sorry. It rang true to every parent who has been on a school trip!"
Mr Smith, who has since deleted his account, has declined requests for interviews.
You might also be interested in: