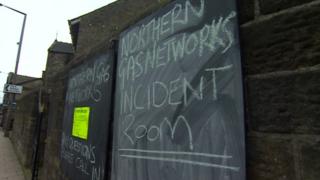 Gas supplies to thousands of residents have remained cut off for a third day in a Yorkshire town.
Contractors working on a housing scheme caused damage to the mains pipe in the Silsden area, near Bradford, on Friday, affecting more than 3,000 properties.
Engineers restored gas to 600 homes, but it could be another three days until the whole town is reconnected.
Northern Gas Networks (NGN) said it was the largest incident it had dealt with.
Barratt, the builder responsible for the Belton Road housing development where the contractors were working, has apologised to residents for the inconvenience.
A major community operation has swung into place with Red Cross and community volunteers providing help as well as the council and police.
A drop-in centre has been set up at St James' Church hall and hundreds of heaters and other items have been distributed along with food vouchers.
Shower facilities were also provided at Keighley Leisure Centre until 16:00 GMT and will be reopened on Monday from 09:00 to 17:00.
Skip Twitter post by @Jmidd1982
@NGNgas as a resident of Silsden BD20 with no gas I'd just like to say what an awesome job your staff and sub contractors are doing. You should all be given medals!! Plenty of info and help. Keep it up 👍👍👍👍👍👍👍👍👍

— Jon Middleton (@Jmidd1982) March 31, 2018
End of Twitter post by @Jmidd1982
Tribute has been paid to NGN staff as more than 100 of its engineers work round the clock to resolve the issue.
Posting on Silsden Buzz, a community Facebook page, Pauline Whitaker said: "I can't praise enough NGN and all the workers that have come from far and near."
Another resident Gwendda Greaves said: "The community spirit in Silsden these last few days has been just amazing."
Other gas companies have supported the operation, with engineers from firms including Cadent, Wales & West Utilities and SGN helping out.
Iain Foster, NGN network supply strategy manager, said: "We have been able to reconnect a number of customers and would ask residents for their ongoing patience as we continue this work.
"We are still expecting it to take a number of days as we systematically reinstate gas supplies to the network."
Meanwhile, NGN said it was working with Northern Powergrid, which is monitoring the electricity network for any potential knock-on surges in demand while residents are without gas.
Any significant overloading of the network could increase chances of damage and result in a power cut.
As a result, residents are being urged to minimise the use of electrical appliances to help prevent any issues.