Should it be easier to get a divorce in England and Wales?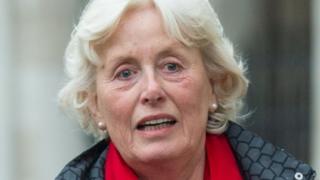 Tini Owens desperately wants to divorce her husband.
She says she's been unhappy for many years and she feels locked in a loveless marriage.
For her, after four decades together and with their children now grown up, it's time to formally end the relationship.
But her husband, Hugh Owens, does not feel the same way. He says they still have a few years to enjoy together.
He's fighting hard to stop her getting her way and has been successful so far.
Their divorce battle goes to the highest court in the UK on Thursday.
Five Supreme Court judges will decide whether to let Mrs Owens have her divorce – after lower courts decided she was not entitled to one. They will deliver their judgment later this year.
For many family lawyers and judges, the case, although rare, is an example of why divorce laws in England and Wales are outdated and need to change.
Even the UK's most senior judge, Baroness Hale – one of the Supreme Court judges overseeing the Owens case – has repeatedly called for the laws to be overhauled, describing them as "confusing" and "unjust".
Why can't Mrs Owens get a divorce?
Under current divorce law in England and Wales, a couple have to prove in court that their marriage has irretrievably broken down.
At least one of five specific reasons must be shown:
adultery
unreasonable behaviour
desertion after two years
two years' separation (if both parties agree to the divorce)
five years' separation (if one party does not agree to the divorce)
Mrs Owens, who is in her 60s, cited 27 allegations about her husband's "unreasonable behaviour" – including that he was "insensitive" in his "manner and tone", she was "constantly mistrusted" and felt unloved.
But a family law judge refused the divorce, saying her allegations were "of the kind to be expected in marriage". The Court of Appeal agreed that "in law" the marriage had not broken down.
Mrs Owens filed for a divorce in 2015 after moving out of the family home in Broadway, Worcestershire. If her bid in the Supreme Court fails, she will have to wait until 2020 until she can divorce her husband.
Her situation is seen as "highly unusual" because in most cases neither party contests the divorce and it is granted.
It is therefore widely believed that the Owens's divorce would have been allowed by the court for the reasons Mrs Owens gave if Mr Owens, a retired businessman in his 70s, had not contested it.
No fault?
Even when both parties agree to get divorced, couples still have to cite one of the five reasons to prove to the court that their marriage is broken.
The most common reasons used by couples are those that allow divorce proceedings to start straight away – adultery and unreasonable behaviour.
Lawyers say people will often cite "behaviour" reasons in an amicable split as they do not want to wait for the two-year separation period to pass.
And this is the one of the key issues – those calling for change insist the current system forces divorcing couples to assign blame in an already painful situation.
Chris Sherwood, chief executive of counselling charity Relate, said "blame needs to be taken out of the system".
"It's not about making divorce any easier, it's about supporting people to get the outcome they want," he told BBC News.
"From our experience, when people are getting divorced it's something that's been long thought through."
He added: "Having a system that has assigning blame at its heart can be very painful for the couple, but also the children of the relationship."
Family lawyer Nigel Shepherd, former chair of Resolution – which has campaigned for 30 years for divorce laws to change – agrees.
"What strengthens marriage is people committing to it. But if it's over I don't think making people jump through hoops and making them blame each other helps to keep people together," he told BBC News.
"This is a matter of allowing people to come out of a marriage with more dignity, it's about making it more kinder, not easier."
He said people often do not want to wait for the two-year separation period due to financial reasons.
"You need a divorce in order for the court to make certain orders on finances – for example, an order for the sale of a house or an order for a pension share," he said.
"So a lot of people, when they decide they want to separate, in order to get on with things and to get those final things sorted out, you have to have the divorce… that's why most people can't afford to, or don't want to, wait for at least two years."
'Race to the bottom'
But some believe a "no-fault" divorce system would undermine the institution of marriage.
Colin Hart, chairman of the Coalition for Marriage and director of the Christian Institute, says a "pure no-fault" system would lead to a "race to the bottom", with quicker divorces that would "trivialise marriage".
"Society has an interest in trying to keep marriages together and I think no-fault divorce is pushing that in the wrong direction," he said.
But he says the current system is a "mess" and gives divorces too easily.
He also believes judges and lawyers have undermined the system.
"You can go to some lawyers and they will frame up a divorce and they will say, 'this is how you make an allegation against your spouse'," he said.
"The judiciary bears a lot of blame for giving divorces on a very trivial basis… the courts have done quite a lot to undermine the seriousness of the fault grounds," he added.
He fears the Owens versus Owens case will further bolster the case for no-fault divorce.
"The judiciary love no-fault divorce," he said.
"The Supreme Court want to get no-fault divorce and I think they want to do that by creating a judgment that really undermines the current law and tries to say that the current situation is so bad that we need a complete no-fault system."
And he believes it is necessary for couples planning to break up to wait a lengthy period of time before their divorce is granted.
He said this allows couples to change their minds and helps a person who does not agree to the divorce.
"If you don't want to get divorced, but you are being forced against your will to make all sorts of profound, life-changing arrangements, you should be given time to make those arrangements," he said.
But Resolution, which represents about 6,500 family lawyers, says a six-month period is suitable for couples to decide.
They suggest a system where one or both of the couple give "a simple notification" that the marriage has broken down and then six months later, if they still want the divorce, it would be granted.
And, crucially, there would be no need to cite a reason.
You may also be interested in:
A Ministry of Justice spokesperson said: "We are aware that a number of respected figures and organisations have voiced their support for change in this area.
"We are listening carefully to the range of arguments and studying the evidence."