Shots fired as intruder chased inside US base in Suffolk
A Ministry of Defence (MoD) source said a man driving a car tried to force the vehicle into the barriers at the entrance to RAF Mildenhall, near Bury St Edmunds, at 1pm on Monday.
Suffolk Police said shots were fired by American service personnel at the base, which was placed on lockdown, with aircraft grounded.
Schools in the local area were also placed on lockdown.
Sky sources said the man pretended to be someone else to get through the checkpoint.
Sky's defence correspondent Alistair Bunkall said: "I have been told by the Ministry of Defence in London that one individual is in custody with Suffolk Police.
"It was described to me as some sort of argument at the base gates. There were reports of shots fired. The situation is ongoing.
"When the base gets placed on lockdown people have to stay in their offices; you turn off the lights, you lock the doors, you draw the curtains or blinds around the windows to make it look like no one is around."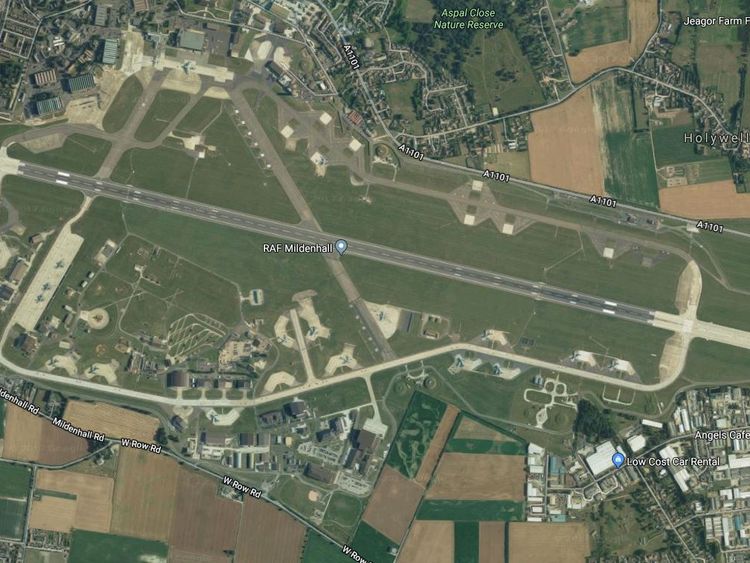 A man was quickly arrested by police at the scene.
Senior Master Sergeant Brian Boisvert told Sky News: "We are notified by our types of mass communication that an incident has occurred so what we will hear is the words lockdown, lockdown, lockdown – and at that point we will respond by going in to a sheltering place."
A Suffolk Police spokesman said: "Shots were fired by American service personnel and a man has been detained with cuts and bruises and taken into custody.
"No other people have been injured as a result of the incident."
A National Police Air Service helicopter was also called to the base.
The lockdown was lifted at about 2.50pm, nearly two hours after the incident started.
A member of staff at Jumppin Jacks Funhouse, an adventure play centre in Mildenhall, said: "All the American children playing here suddenly left, but we didn't hear anything or know why."
Police are continuing to deal with an ongoing incident at RAF Mildenhall, it is considered that there is no wider threat to the public or occupants on the base. One man has been arrested and police are not looking for anyone else on the site.

Read more – https://t.co/sgjJOkntCQ

— Suffolk Police (@SuffolkPolice) December 18, 2017
A statement from RAF Mildenhall said: "RAF Mildenhall locked down at 1pm today following reports of a disturbance on base.
"Additional details will be provided as they become available.
"Individuals in the area surrounding the installation are asked to avoid the base at this time."
A Pentagon spokesman in Washington said: "The security incident has been contained and a suspect has been apprehended."
RAF Mildenhall and RAF Lakenheath, another US base next to it, have both been subjected to terror threats in the past few years.
Last year, aBritish-born "committed supporter" of Islamic State (IS) was jailed for life for planning a terrorist attack on five US Air Force bases in the UK, including RAF Mildenhall and RAF Lakenheath.
Delivery driver Junead Khan, 25, from Luton, used his job with a pharmaceutical company as cover to scout the bases.
Aircraft belonging to the US Air Force and NATO in Europe refuel at RAF Mildenhall.