Shop criticised for tearing up unsold clothes during cold snap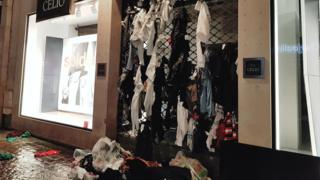 A clothes store in France has been criticised for cutting up and abandoning unsold clothes outside their shop instead of giving them away to homeless people.
On Saturday, shopper Nathalie Beauval, spotted torn up clothes hanging on roller shutter grilles outside men's clothes shop Celio in Rouen.
Ms Beauval posted photos of the unwanted clothes on her Facebook page. Her post has since been shared more than 20,000 times, and has had thousands of comments and reactions.
Skip Facebook post by Nathalie
End of Facebook post by Nathalie
In her Facebook post, Ms Beauval says she finds it disappointing that shop workers threw away unsold clothes when many people need warm clothes during the cold spell. She added that there are homeless people sleeping near the shop.
Others have also claimed that they have seen torn up clothes outside different stores across France.
You might also like:
Some Twitter users have tweeted Celio to voice their criticism of the store's practices. But the company has defended their stance on Twitter, by claiming the torn up clothes were unusable because they had holes, tears and stains on them and that it is their policy to destroy unwearable clothes.
Skip Twitter post by @celio
Les produits détruits concernent uniquement des articles totalement importables : trous, déchirures, grosses tâches indélébiles.

Celio soutient ADN (Agence du Don en Nature) par des dons réguliers de produits, qui les redistribue ensuite à plus de 750 associations en France.

— celio* (@celio) February 5, 2018
End of Twitter post by @celio
They said they work with a national charitable association and donate discontinued stock regularly.
Speaking to local media, Celio staff at the Rouen store said the torn up clothes have water damage, leaving them unfit for sale or donation.
France has been experiencing a particularly cold winter that has left much of the country on alert. Areas including Paris have come to a halt because of heavy snowfall.
French authorities said thousands of emergency accommodation spaces will be opened to shelter the homeless from the cold weather.
The BBC asked the British Retail Consortium, a trade association, if high street retailers have a policy on dealing with unsold clothes.
A spokesperson said: "Items that are left unsold even after being discounted in sales, or in the retailers' own discount or seconds outlets are usually sold on in bulk to third party wholesalers who in turn sell them on.
"They may end up in independent discount shops or on market stalls. It is only usually damaged clothing that may be destroyed."
The BBC has contacted Celio for comment.