Sheffield man's fright at 'corn snake' breakfast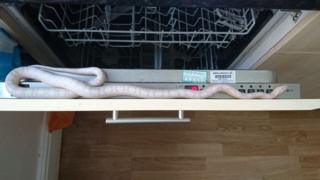 A man had an unwelcome surprise when a three-foot-long snake slithered out of his cereal box at breakfast time.
The corn snake was curled up in the box before escaping into the dishwasher.
The RSPCA, which was called to move the animal from the man's home in Mona Road, Sheffield on Sunday, believe the snake is a lost pet.
Officer Katie Hetherington said: "I think he was expecting to have cornflakes for breakfast not corn snakes."
Read more stories from across Yorkshire
Corn snakes are a non venomous species native to North America, although they are one of the most commonly kept exotic pets in this country.
In recent years the reptiles have turned up in some unlikely places in the UK.
Corn snake found on back seat of bus

Corn snake found 'hiding' in vacuum

Corn snake rescued from washing machine
According to the RSPCA, they are "particularly good at escaping" and want anyone who may have lost their snake to get in touch.
Ms Hetherington said: "The poor chap was absolutely terrified. I think it as the last thing he expected to find in his kitchen."
The snake was unharmed and is in specialist care, the charity said.