Sheffield City Council calls temporary halt to tree work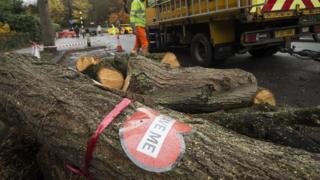 Sheffield City Council is to call a temporary halt to its tree replacement work, the BBC understands.
Campaigners say the council has cut down a number of healthy trees among the thousands felled since 2012.
The BBC's Dino Sofos told the Daily Politics show there would be "no felling for the next few weeks" while those involved discussed the issue.
The news comes after Environment Secretary Michael Gove said he would do "anything required" to stop the work.
The BBC has approached Sheffield City Council for a comment.
More stories from across Yorkshire
Mr Sofos said he understood there would be a pause in the felling during the Easter holidays.
"What I'm hearing is, during that period both sides are going to get around the table because [the situation] is unsustainable," he said.
It is understood that work such as pruning will continue during the hiatus but no trees will be cut down.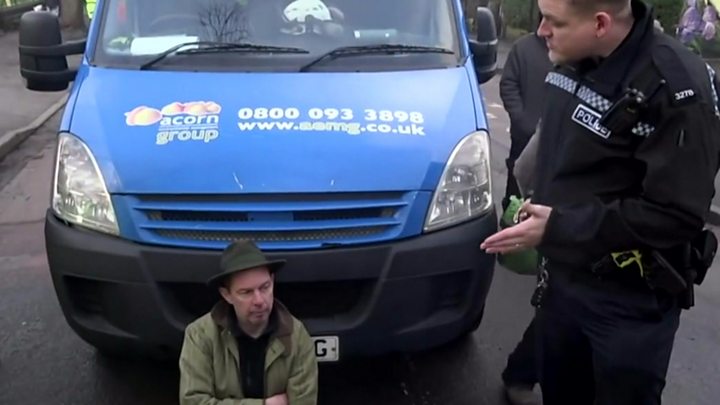 The tree-felling is part of the £2bn 25-year Streets Ahead project, which is being carried out by contractor Amey and has seen about 5,500 trees cut down since 2012.
The council says the trees have been assessed as dead, dying, diseased, damaging or dangerous, and each tree cut down will be replaced.
However, campaigners say healthy trees have also been lost.
The dispute has led to a series of stand-offs between protestors, contractors, private security staff and police, with a number of campaigners arrested and a court injunction imposed as a result.
Speaking on the BBC's Daily Politics, Conservative MP for Chichester Gillian Keegan said: "It does seem ridiculous. The whole country is covered with tree-lined streets that have these problems with roots and trying to keep flat pavements.
"This is something every other council deals with. What on earth is happening [in Sheffield], to have police on the streets, for this to have escalated in to such a big deal? This happens day in, day out across the country."