Sheffield burns survivor to launch beauty pageant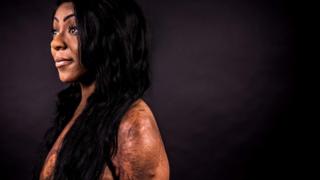 A burns survivor is planning a beauty pageant for people with disfigurements.
Rochelle Barrett, 29, from Sheffield, suffered third degree burns to 70% of her body when a childminder tripped over her with a boiling kettle when she was eight months old.
Doctors did not expect her to survive.
The whole of Ms Barrett's left arm was burnt, her left breast is not fully formed, and her right thigh is covered in scars but by some "miracle" her face healed.
She spent years hiding her burns with clothes and makeup, but despite her scars she took part in a beauty pageant.
Ms Barrett said now her daughter is 10 she wants her to have a positive body image, and will put together the Miss Unique Beauty Pageant to "celebrate all forms of beauty… any other circumstance not traditionally celebrated in beauty and fashion".
"As a teenager I realised I didn't look like, and would never look like, any of the girls on the magazines or the beautiful girls at school," she said, recalling how she did not want anyone to see her scars.
But after her daughter was born she realised she would have to confront her body image.
"My daughter starts secondary school in September and social media is a really big deal for girls, adjusting your entire image to look what is classed as "perfect"," she said.
"But there isn't a "perfect" so you're constantly seeking something that doesn't exist."
You may also like:
She tells her daughter it is really important not to conform to how others say you should look.
"It's taken a long time for me to believe for myself but I've really learned to embrace my body now."
In 2016 Ms Barrett took part in the Miss Caribbean UK pageant in London, which involved wearing a bikini in front of 1,000 people, an experience she found "terrifying but amazing".
"I'd never ever worn a bikini but I knew if I could do that I could do anything, I felt empowered."
The Miss Unique Beauty Pageant is planned for next spring.