Sheep gets stuck on Norfolk river bridge… again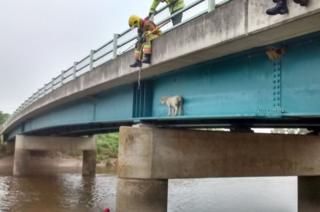 A runaway sheep had to be rescued from the same bridge where another member of its flock was trapped just days before.
On Sunday, a ram got stuck in the rafters of the crossing in Stowbridge, Norfolk.
And on Thursday, in an apparent case of deja-ewe, another sheep found itself stuck on a ledge 20ft (6m) above the choppy waters of the River Great Ouse.
Rescuers said it was "very unusual" to have to carry out two near-identical rescues so close together.
"It must be a very curious and brave flock," said RSPCA inspector Jon Knight.
Firefighters used boats to reach the first of the "woolly wanderers" when it got stuck above the river.
In slightly less dramatic scenes, the second adventurous ungulate was simply persuaded to walk back along the ledge.
Neither animal could have got to safety without the help of their human rescuers, Mr Knight said.
He said the charity would "now need to see if steps can be taken to keep these woolly wanderers in check".
You may also like: